Our Projection of Future Workshops
This schedule is subject to change, based on a variety of factors. Nevertheless, we can project a tentative schedule for the next several years.
Most of our extended workshops and colloquies gather for 3 sessions: a week in successive summers with a weekend gathering in January on the South Texas beach.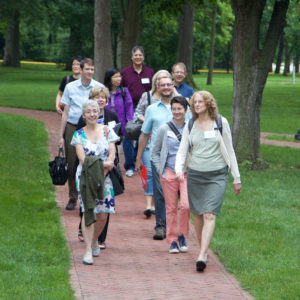 Workshops for Early Career Ethnic and Racial Minority Faculty
Since 2001, we have offered these workshops on a rotating basis.
2020-2021 Early Career Workshop for Latino/a Faculty (projected)
Colloquies for Mid-Career Faculty
We offer successive colloquies on a rotating basis for mid-career faculty and administrators, typically focused on a particular issue or challenge.
Current projections:
2019-2020 Colloquy on Writing the Scholarship of Teaching
2019 Invited Gathering on Teaching the Black Religious Experience
2020-2021 Colloquy for Theological School Deans
2020-2021 Colloquy for Mid-Career Religion Faculty at Colleges and Universities.
Work with Doctoral Programs
Our Preparing Future Faculty initiative gathers doctoral programs every other year for a day-and-a-half conversation about preparing graduate students for careers as teachers. Our next Graduate Program Conferences are projected for Fall 2018 and 2020.
See as well our Doctoral Student Seminars. Workshops series are planned for the 2017-18 academic year in the Boston and New York regions.