Teaching Theology & Religion
Special Call for Papers
"The Pedagogy of Hybrid and Intensive Courses"
Deadline extended: January 1, 2019
The past decade or so has seen an astounding explosion of alternative course structures, including:
fully online courses;
online courses augmented by intensive face to face components;
intensive weekend courses and/or evening courses with and without online components;
technology classrooms that bring distant students into a face to face classroom;
classrooms moved off-site to hospitals, prisons, or social service agencies.
Today's faculty, raised and enculturated in the traditional 3-hours-a-week, semester-long, course structure, have a need to rethink the pedagogies that are appropriate and effective in this new world of hybrid and intensive and non-traditional classrooms. Relying on instinctive teaching habits, formed in a now antique higher educational context, is not likely to result in effective student learning.
In a 2000 word essay:
1. Provide a brief overview of the teaching context (characterizing your institution, your students, your course, student learning outcomes, etc.)
2. Provide a brief description of the structure of the hybrid-online-intensive course;
3. Briefly name and analyze the pedagogical challenges of the course's structure;
4. Briefly describe and analyze the success or failure of a few examples of the pedagogical choices you've made for this course structure;
5. Reflect briefly on how the course structure might be altered, ideally, for more effective pedagogy and student learning?
Deadline extended: January 1, 2019
Send manuscripts, inquiries or questions, to:
Thomas Pearson
Editor, Teaching Theology & Religion
pearsont@wabash.edu
Additional Call for Papers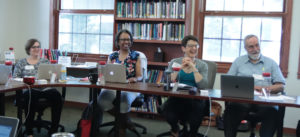 In addition to the standing CFPs for 1-page "Teaching Tactics" and short "Metaphors for Teaching," the journal occasionally singles out a specific topic of interest to prompt potential authors and publish a themed collection of articles.