Teach with Confidence: "Difficult Conversations" in the Classroom
(Graduate Student Lunch and Session)
AAR-P19-119/SBL-P19-159
Sunday – 11:30 AM-1:30 PM
Hynes Convention Center-107 (Plaza Level)
Graduate students please join us for lunch and an interactive presentation about teaching in higher education.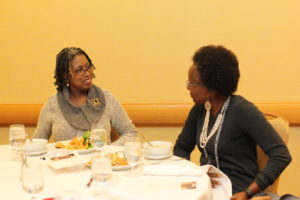 Many professors in theology and religious studies report an increase in the number and intensity of "difficult conversations" in the classroom over the past year.  Whether sparked by perennial questions in theological and religious studies or daily headlines, passionate, though not necessarily informed, opinions flood our classrooms. 
How can we engage emotionally and politically charged topics in ways that enlighten and educate? Rebekka King and Cláudio Carvalhaes will present teaching strategies for conducting productive class discussions in today's contentious environment.
Pre-registration is required.
Send an email to Beth Reffett reffettb@wabash.edu.
Registration deadline is November 1. Walk-ins may also be accepted if space is available.
Open Q&As will follow the workshop.
Panelists:
Cláudio Carvalhaes, Union Theological Seminary