Wabash Center Grant Program
The Wabash Center provides funds for activities that enhance teaching and learning in the fields of religious and theological studies as taught in colleges, universities, and theological schools. We fund projects that focus on at least one of three areas:
improving teaching and learning practices
encouraging research and study of pedagogical issues
nurturing supportive teaching environments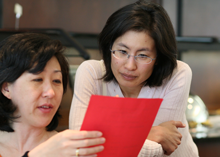 The Wabash Center grant program is primarily concerned with building the capacity of higher educational institutions and faculties for sustained pedagogical conversations that directly enhance student learning. The grants we award are intended to empower and encourage teachers to initiate relevant change within their home institutions. We are committed to developing critically reflective and pedagogically informed teachers who can make use of the scholarship about teaching and learning to engage classroom issues.
What types of grant projects are funded by the Wabash Center?
We are interested in projects that attend to particular pedagogical issues and promote supportive teaching environments. Hence, projects might:
seek to understand the students being taught and the competences they bring to the classroom
attend to specific challenging or complicated student learning issues
address aspects of student resistance to learning
identify and address evaluation and assessment issues
engage in difficult conversations in the classroom, such as those around racial privilege, gender and sexuality, or interfaith issues

Projects might involve meetings of scholars across schools, regions, denominations, or subject areas to think about syllabi, teaching strategies, student learning styles, or teaching as a vocation. Or they might involve a single department experimenting with creative ways to enhance teaching or a doctoral institution helping their students prepare for teaching careers. We encourage interested applicants to propose creative projects that will enhance their particular teaching and learning contexts.
Open Grant Applications
Previous Grant Programs
Grant Coaching
We strongly encourage you to be in conversation with us as you develop ideas for a grant project and write a formal proposal. We will gladly give you feedback on your ideas and on a draft proposal in a timely manner.
Contact:
Dr. Paul O. Myhre
Senior Associate Director, Wabash Center
myhrep@wabash.edu
(800) 655-7117
Previously Awarded Grants


Browse
Find successful grant projects you can learn from when developing your grant proposal, find others with similar interests and challenges.
General Eligibility Requirements
The Wabash Center gives grants to accredited universities, colleges, or seminaries in the United States and Canada and occasionally to non-profit organizations providing services to improve teaching and learning at institutions of higher education. The project director will ordinarily be a full-time faculty member in religion or theology. In colleges or universities without a department of religion or theology, we will consider, on a case-by-case basis, project directors from other departments whose primary teaching responsibility is in the area of religion.