1996-1998 Colloquy on Teaching Theology
Dates
July 27-31, 1996 – First Session at Wabash College
July 26-30, 1997  – Second Session at Wabash College
July 25-29, 1998 – Third Session at Wabash College

Convener:
William C. Placher, Wabash College

Goals:
To provide an occasion for theologians to reflect together on the teaching of theology and the nature of the theological enterprise
To develop resources for teachers of theology
To support excellence in theological teaching
To help set an agenda for the field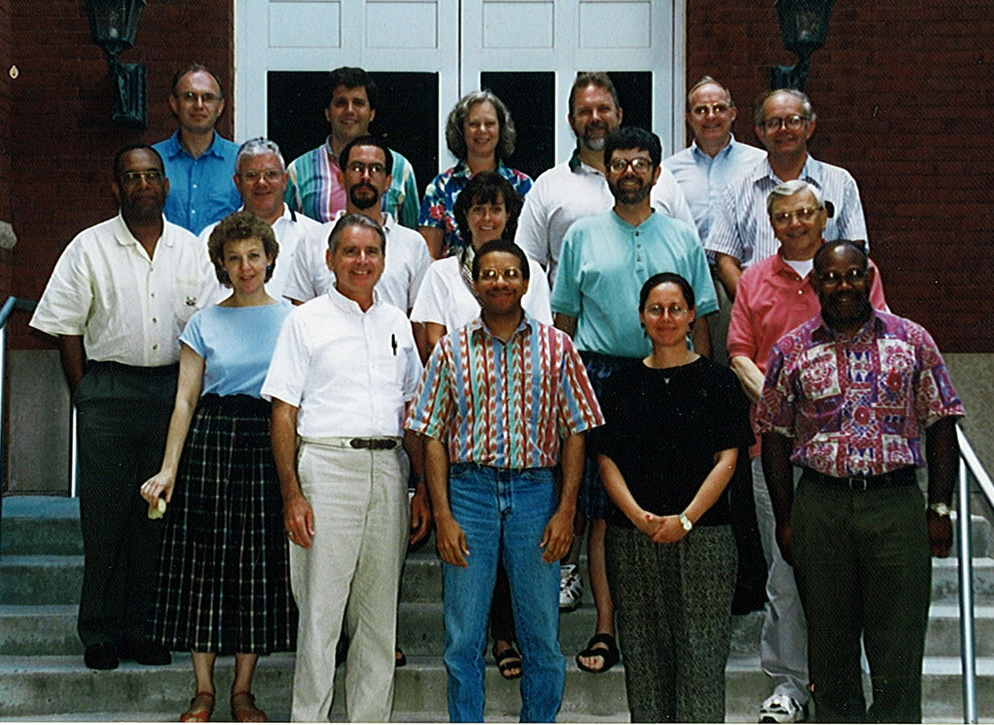 Front Row (Left to Right): *Lucinda Huffaker (Wabash Center), Ronald Quillo (Oblate School of Theology), David Goatley (Lott Carey Foreign Baptist), Serene Jones (Yale Divinity School), James Lewis (Anderson University).
Second Row: Noel Erskine (Candler School of Theology), +Luke Johnson (Candler School of Theology), Stephen Webb (Wabash College), Mary Stimming (Rosary College), James Buckley (Loyola College in Maryland), James Yerkes (Moravian Theological Seminary).
Third Row: Miroslav Volf (Fuller Theological Seminary), L. Gregory Jones (Duke Divinity School), Nadine Pence Frantz (Bethany Theological Seminary), Alan Padgett (Azusa Pacific University), *Raymond Williams (Wabash Center), *William Placher (Wabash College).
Not Pictured: Kristen Kvam (St. Paul School of Theology), Linda Mercadante (Methodist Theological School in Ohio).

* leadership/staff 
+ Lilly Evaluator.