1997-98 Workshop on Teaching and Learning for Pre-Tenure Theological School Faculty
Dates
August 2-8, 1997 – First Summer Session at Wabash College
January 30-Feburary 1, 1998 – Winter Session at Delray, Florida
May 30-June 4, 1998 – Second Summer Session at Wabash College
Leadership Team
Charles R. Foster – Candler School of Theology – Director
Sharon Daloz Parks, Whidbey Institute
Peter Frederick, Wabash College
Fayette Veverka, Villanova University
Raymond Williams, Wabash Center
Lucinda Huffaker, Wabash Center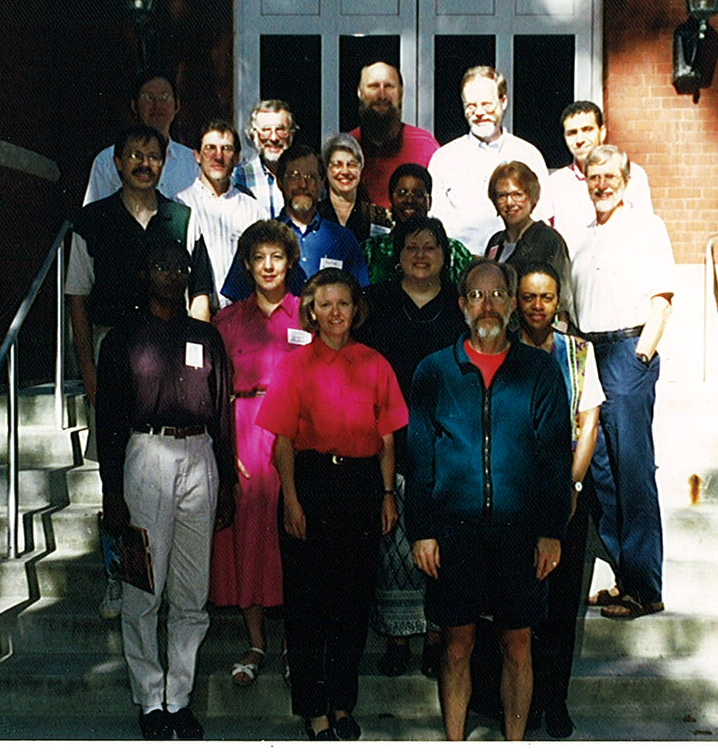 Front Row (Left to Right): Mignon Jacobs (Fuller Theological Seminary), *Lucinda Huffaker (Wabash Center), Susan Harlow (Meadville Lombard Theological School), *Fayette Ververka (Villanova University), Richard Stern (St. Meinard School of Theology), Cheryl Kirk-Duggan (Graduate Theological Union).
Second Row: Charles Gieschen (Concordia Theological Seminary, Ft. Wayne), Peter Feldmeier (St. Paul Seminary School of Divinity), Robert Sherman (Bangor Theological Seminary),Delores Friesen (Mennonite Brethren Biblical Seminary), Marsha Foster Boyd (Payne Theological Seminary), *Sharon Daloz Parks (The Whidbey Institute), *Charles Foster (Candler School of Theology).
Third Row: Reinhard Hütter (Lutheran School of Theology, Chicago), *Peter Frederick (Wabash College), Craig Nessan (Wartburg Theological Seminary), Vincent McNally (Sacred Heart School of Theology), Khaled Anatolios (Weston Jesuit School of Theology).
Not Pictured: Scott Cormode (Claremont School of Theology), Timothy Fulop (King College).
* leadership/staff