1997-99 Colloquy on Teaching About World Religions
Dates
August 9-13, 1997 – First Session at Wabash College
August 8-12, 1998 -Second Session at Wabash College
June 22-27, 1999 – Third Session at Wabash College
Conveners:
Judith Berling, Graduate Theological Union
Francis X. Clooney SJ, Boston College
Raymond Williams, Wabash Center

Goals:
To provide an occasion for scholars teaching courses on world religions in theological schools and theology departments to reflect together about goals, content, and methods for teaching and learning;
To reflect on what is distinctive about teaching world religions in a theological school or department;
To discuss goals of both faculty and students and the missions of institutions as they relate to studying world religions;
To determine what resources are needed for teachers and students;
To evaluate the strengths and weaknesses of the various models for teaching world religions in theological schools: dialogical, thematic, comparative, survey, other.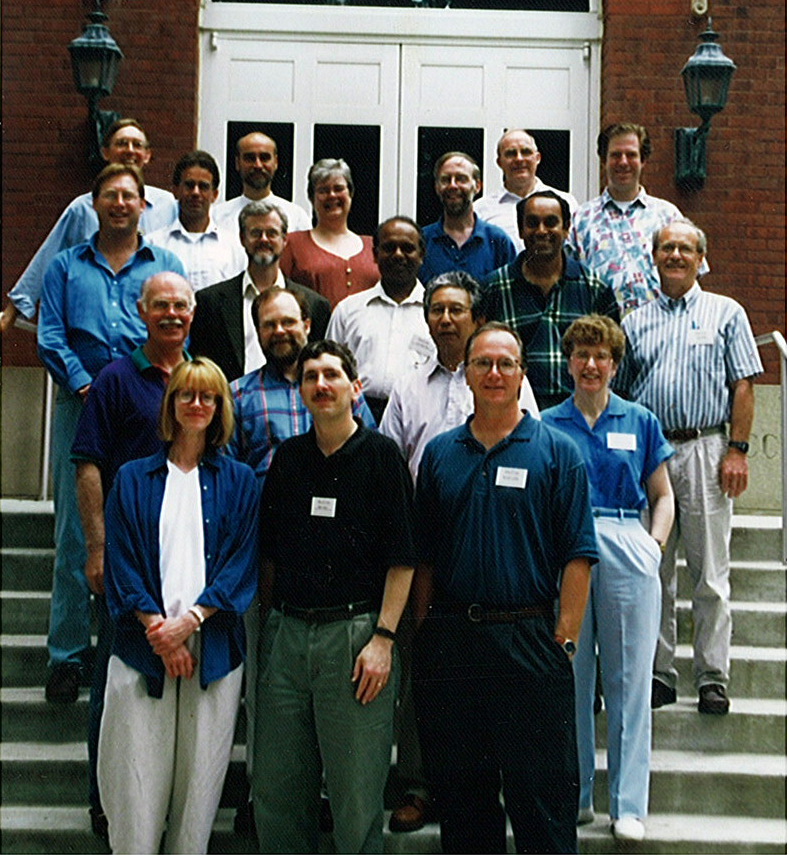 Front Row (left to right): Catherine Bell (Santa Clara University), Mark Heim (Andover Newton Theological School), Michael Lodahl (Northwest Nazarene College).

Second Row: Charles Courtney (Drew University), David Aune (Ashland University), Ronald Nakasone (Pacific School of Religion), Carla Mae Streeter (Aquinas Institute of Theology),

Third Row: Darin Jewell (Hinduja Foundation), Charles Jones (Catholic University of America), A.R. Victor Raj (Concordia Seminary, St. Louis), Amantanand Rambachan (St. Olaf College), Ted Ludwig (Valparaiso University).

Fourth Row: Richard Jones (Virginia Theological Seminary), Lonnie Valentine (Earlham School of Religion), Christopher Chapple (Loyola Marymount University), *Judith Berling (Graduate Theological Union), *Francis Clooney (Boston College), *Raymond Williams (Wabash Center), Kurt Richardson (Gordon-Conwell Theological Seminary).
Not pictured: M. Thomas Thangarai (Candler School of Theology).

* leadership/staff