1997- 99 Colloquy on The Vocation of Theological Teachers
Dates
June 21-25, 1997 – First Session at Wabash College
June 27-July 1, 1998 – Second Session
June 26-June 30, 1999 – Third Session at Wabash College
Conveners:
L. Gregory Jones, Duke University, Divinity School
Stephanie Paulsell, University of Chicago Divinity School
Raymond Williams, Wabash Center

Goal:
Participants will explore with colleagues the theological dimensions of our work as teachers and scholars by focusing on such questions as:
What resources do religious traditions offer for the articulation of the academic vocation as a religious vocation?
What is the relation between academic and spiritual formation?
What is theological teaching?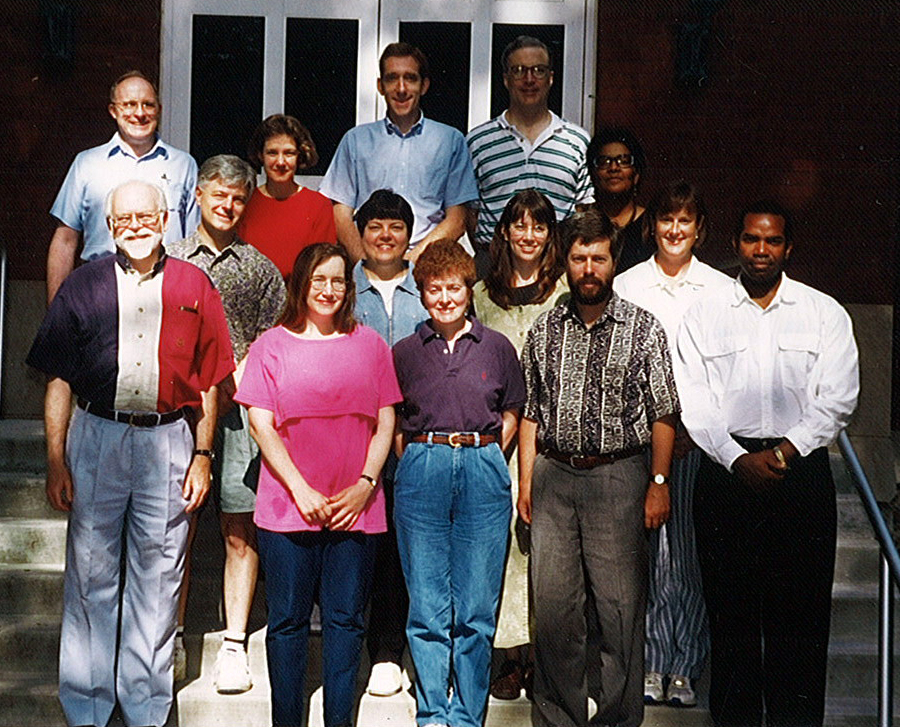 Front Row (Left to Right): Frederick Norris (Emmanuel School of Religion), Claire Mathews McGinnis (Loyola College in Maryland), Beverly Gaventa (Princeton Theological Seminary), Gordon Smith (Canadian Theological Seminary), Michael Battle (University of the South).
Second Row: Clark Gilpin (University of Chicago Divinity School), Susan Simonaitis (Fordham University), *Stephanie Paulsell (University of Chicago Divinity School), Leanne Van Dyk (San Francisco Theological Seminary).
Third Row: *Raymond Williams (Wabash Center), Lois Malcolm (Luther Seminary), Paul Griffiths (University of Chicago Divinity School), Paul Wadell (University of Scranton), Phillis Sheppard (Center for Religion and Psychotherapy). 
Not Pictured: *L. Greg Jones (Duke Divinity School), Bonnie Miller-McLemore (Vanderbilt University Divinity School), Rosemary Keller (Union Theological Seminary, NY).
* leadership/staff