1998-2000 Colloquy on Teaching the Bible in the 21st Century
Dates
July 18-22, 1998 – First Session at Wabash College
July 10-14, 1999 -Second Summer Session at Wabash College
July 8-12, 2000 – Third Session at Wabash College
Conveners:
Richard B. Hays, Duke University: Convener of the New Testament Section.
Gary Anderson, Harvard University: Convener of the Old Testament/ Hebrew Bible Section.
Raymond B. Williams, Wabash Center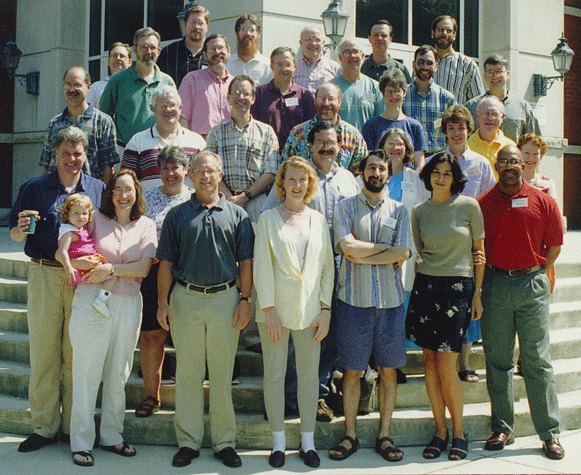 Front Row (left to right): Claire Mathews McGinnis (Loyola College in Maryland), Chris Seitz (University of St. Andrew's), Christine Thomas (University of California, Santa Barbara), Ben Sommer (Northwestern University), Nicola Denzey (Skidmore College), Allen Callahan (Harvard Divinity School). 
Second Row: Robert Wall (Seattle Pacific University), Corrine Patton (University of St. Thomas), Jeffrey Siker (Loyola Marymount), Katherine Grieb (Virginia Theological Seminary), Marianne Thompson (Fuller Theological Seminary), Mary Callaway (Fordham University).
Third Row: Michael Cosby (Messiah College), +Luke Johnson (Candler School of Theology), *Gary Anderson (Harvard Divinity School), Joel Kaminsky (Smith College), Alexandra Brown (Washington and Lee University), Carl Holladay (Candler School of Theology).
Fourth Row: *Richard Hays (Duke Divinity School), Victor Matthews (Southwestern Missouri State University), Robert Di Vito (Loyola University, Chicago), Clint McCann (Eden Theological Seminary), Robert Harris (Jewish Theological Seminary of America), Andrew Vaughn (Gustavus Adolphus College).
Fifth Row: Clifton Black (Perkins School of Theology), Craig Hill (Wesley Theological Seminary), Raymond Person (Ohio Northern University), *Raymond Williams (Wabash Center), Don Juel (Princeton Theological Seminary), David Carr (Union Theological Seminary, NY).
Not pictured: Robert Cohn (Layfayette College), Stephen Fowl (Loyola College in Maryland), Ellen Davis (Virginia Theological Seminary).
* leadership/staff; + Lilly evaluator.
The Wabash Center for Teaching and Learning in Theology and Religion convened a consultation of Biblical scholars to discuss academic teaching and learning about the Bible and to make recommendations regarding teaching about the Bible in college, universities, and theological schools.

Goals:
To consider the pedagogical uses of various methods for interpreting the Bible (historical, literary, and theological) and to reflect on the relations between these approaches.
To consider how the institutional setting (e.g. department of religious studies, theological seminary) shapes the way in which the Bible is taught.
To encourage practices of teaching that enable students to connect the historical origins of the Bible to its reception and use within church and synagogue.
To discuss the relationship between the NT and the OT/Hebrew Bible and to explore pedagogical strategies for bringing these fields of study into mutually enriching dialogue.
To examine strategies for teaching the biblical languages–and for teaching biblical exegesis to students who have not taken biblical languages.
To consider how we may best teach the Bible in a diverse and increasingly postliterate culture.
To explore the problems and possibilities for new technologies for teaching and learning (computers, internet, etc.).
To encourage practices of teaching that enable students to read the texts both critically and sympathetically, including exploration of the history of biblical interpretation in church and synagogue.
To consider the personal discipline and spiritual formation required for teachers and students of the Bible.