2000-01 Workshop on Teaching and Learning for Pre-Tenure Theological School Faculty
Dates
July 13-19, 2000 – First Session at Claremont School of Theology
January 26-28, 2001 – Second Session atClaremont School of Theology
July 18-23, 2001 – Third Session at Wabash College
Leadership Team
Scott Cormode, Claremont School of Theology, Director
Mary Hess, Luther Seminaryz
Becky Bane, Technology Support
Dianne L. Oliver, Wabash Center
Paul O. Myhre, Wabash Center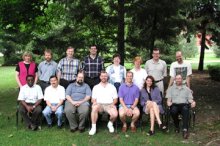 Front Row (left to right): Mabiala Kenzo (Canadian Theological Seminary), Milton Eng (Erskine Theological School), Alejandro Garcia-Rivera (Jesuit School of Theology at Berkeley), Michael Williams (Calvin Theological Seminary), Todd Johnson (Loyola University of Chicago), Pamela Eisenbaum (Iliff School of Theology), Barry Morrison (Acadia Divinity College).
Second Row: *Mary Hess (Luther Seminary), *Paul Myhre (Wabash Center), *Scott Cormode (Claremont School of Theology), David Schmitt (Concordia Seminary, St. Louis), *Dianne Oliver (University of Evansville), +Becky Bane (Claremont School of Theology), Richard Beaton (Fuller Theological Seminary), Gilson Waldkoenig (Lutheran Theological Seminary at Gettysburg).
* leadership/staff; + technology support.