2002-03 Workshop on Teaching and Learning for Pre-Tenure Faculty at Church-Related Colleges and Universities
Dates
July 21-26, 2014 – First Summer Session at Wabash College
January 15-18, 2015 – Winter Session at Mustang Island
June 22-27, 2015 – Second Summer Session at Wabash College
Leadership Team
Stephen R. Haynes, Rhodes College, Director
John J. Carey, Agnes Scott College
Amy G. Oden, Oklahoma City University
Philip J. Linden, Jr., Xavier University of Louisiana
Paul O. Myhre, Wabash Center
Workshop Librarian/Resource Person:
Kirk Moll, Dickinson College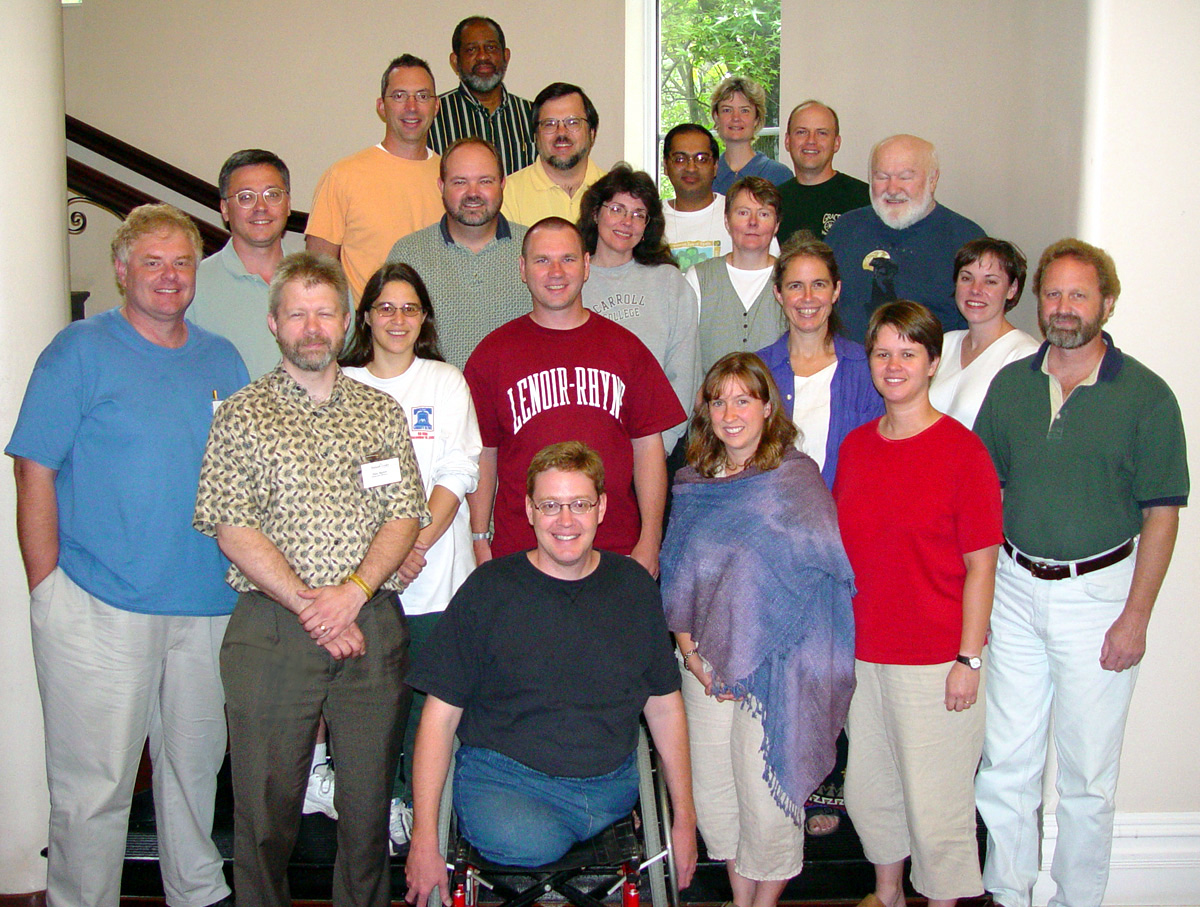 Front Row (left to right):*Paul Myhre (Wabash Center), Rolf Jacobson (Augsburg College), Rebecca Todd Peters (Elon University), Kendra Hotz (Calvin College), Daniel Deffenbaugh (Hastings College).
Second Row: Brian Stratton (Alma College), Bernadette McNary-Zak (Rhodes College), David Ratke (Lenoir-Rhyne College), *Amy Oden (Oklahoma City University), Darlene Fozard Weaver (Villanova University).
Third Row: Paul Kemeny (Grove City College), Mark Gstohl (Xavier University of Louisiana), Linda MacCammon (Carroll College), Teresa O'Donovan (Brescia College), *John Carey (Agnes Scott College).
Fourth Row: *Stephen Haynes (Rhodes College), *Phillip Linden (Xavier University of Louisiana), +Kirk Moll (Dickinson College), John Thatamanil (Millsaps College), Elna Solvang (Concordia College, MN)  Michael Vines (Lees-McRae College).
* leadership/staff; +librarian consultant.