2004-05 Colloquy on Nurturing Effective Teaching and Learning in Racially and Culturally Diverse Classrooms
Dates
July 14-20, 2004 – First Summer Session at Wabash College
January 21-23, 2005 – Winter Session atAlabama Gulf Coast
July 13-18, 2005 – Second Summer Session at Wabash College
Leadership Team
Nancy Ramsay, Louisville Presbyterian Theological Seminary, Director 
M. Shawn Copeland, Boston College
Fumitaka Matsuoka, Pacific School of Religion
Mathew Ouellett, University of Massachusetts Amherst Center for Teaching
Fernando Segovia, Vanderbilt University Divinity School
Lucinda Huffaker, Wabash Center


Goals:
In this two-year workshop, theological educators will gather on three occasions to address the challenge of effective teaching and learning in racially and culturally diverse classrooms. We will define racism as an interlocking system of advantage as well as disadvantage based on race (Wellman, Portraits of White Racism, 1997). Participants will deepen skills in addressing four aspects of effective teaching and learning in diverse classrooms:
understanding ourselves in terms of the ways our racial, cultural, and ethnic identities shape self-understanding and practice as teachers;
understanding our students in relation to their racial, cultural, and ethnic identities and the ways those shape their experience in learning;
exploring and developing effective pedagogical strategies for diverse classrooms;
developing more critical consciousness about what we teach so as to use the resources of various racial and cultural heritages in ways that are respectful and appropriate and to avoid reproducing the assumptions of the dominant culture.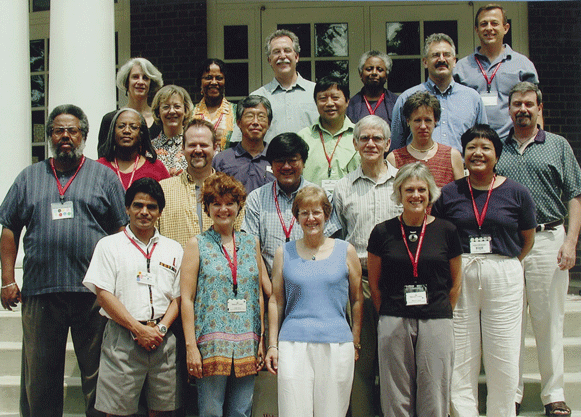 Front Row (left to right): Fernando Cascante (Union – PSCE), Zaida Maldonado Pérez (Asbury Theological Seminary), *Nancy Ramsay (Louisville Presbyterian Theological Seminary), Marilyn Legge (Emmanuel College of Victoria University).
Second Row: Darryl Trimiew (Colgate Rochester Crozer Divinity School), Greg Carey (Lancaster Theological Seminary), Sze-kar Wan (Andover Newton Theological School), *Fernando Segovia (Vanderbilt University Divinity School), Gale Yee (Episcopal Divinity School).
Third Row: Teresa Fry Brown (Candler School of Theology), *Lucinda Huffaker (Wabash Center), *Fumitaka Matsuoka (Pacific School of Religion), Eleazer Fernandez (United Theological Seminary of Twin Cities), Kathleen Greider (Claremont School of Theology), Kevin Burke (Weston Jesuit School of Theology).
Fourth Row: Mary McClintock Fulkerson (Duke Divinity School), Deborah Mullen (McCormick Theological Seminary), *Mathew Ouellett (University of Massachusetts at Amherst), *M. Shawn Copeland (Boston College), Eduardo Fernandez (Jesuit School of Theology at Berkeley), J. Patrick Mullen (St. John's Seminary in Camarillo).
*leadership/staff