2004-05 Workshop on Teaching and Learning for Pre-Tenure Religion Faculty at Colleges and Universities
Leadership Team
Paul H. Jones, Transylvania University, Director
Betty A. DeBerg, University of Northern Iowa
Deirdre Dempsey, Marquette University
D. Keith Naylor, Occidental College
Thomas Pearson, Wabash Center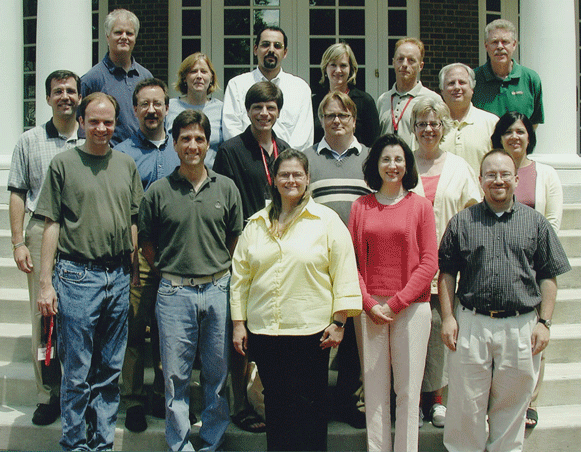 Front Row (left to right): David Cloutier (College of St. Benedict), Brad Kallenburg (University of Dayton), Mary Bader (College of Wooster), Rosemary P. Carbine (College of the Holy Cross), James McGrath (Butler University).
Second Row: Trace Haythorn (Hastings College), Mark Bartusch (Valparaiso University), Alain Durocher (Dillard University), Michael Homan (Xavier University of Louisiana). *Betty A. DeBerg (University of Northern Iowa), Ivette Vargas (Austin College).
Third Row: *Thomas Pearson (Wabash Center), *Deirdre Dempsey (Marquette University), Ibrahim Kalin (College of the Holy Cross), Marit Trelstad (Pacific Lutheran University), Mark Graham (College of Wooster), Thomas Wolthuis (Dordt College), *Paul Jones (Transylvania University).
Not pictured: *Keith Naylor (Occidental College).
* leadership/staff
Participants and Project Titles:

Mary Bader, College of Wooster
"Strategies for moving Students from Faith-based Biblical Studies to Academic Biblical Studies"

Mark Bartusch, Valparaiso University
"'Where Shall Wisdom be Found?' Wisdom Literature in the Bible"

Rosemary Carbine, College of the Holy Cross
"Designing a Course in Faith, Vocation, and Social Change"

David Cloutier, College of St. Benedict
"Teaching About Ethics or Teaching Ethics?: Best Practices for the Formation of Practical Reason in the Undergraduate Ethics Classroom"

Alain Durocher, Dillard University
"Exploring the Challenges and Opportunities of Teaching in an Historically Black College"

Mark Graham, College of Wooster
Religious Vocation and the Vocation of the Artist: Mentoring the Undergraduate Artist and Religious Studies Student"

Trace Haythorn, Hastings College
"More than Words: Surveying the Bible, Multiple Intelligences, and Biblical Pedagogies"

Michael Homan, Xavier Univ. of Louisiana
"BibleDudes and Pedagogy"

Ibrahim Kalin, College of the Holy Cross
"Teaching World Religions at Religiously Affiliated Institutions of Learning"

Brad Kallenberg, University of Dayton
"Phronesis Pedagogy for Christian Engineering Ethics"

James McGrath, Butler University
"Interactive Bible Textbook"

Marit Trelstad, Pacific Lutheran University
"The Ethics of Effective Teaching in Theology"

Ivette Vargas, Austin College
"Violence & Nonviolence: Oppositional Thinking for Achieving Goals in Religious Communities"

Thomas Wolthuis, Dordt College
"The Art of Telling the Biblical Story"