2005 Conference on The Role of the Theological Librarian in Teaching, Learning, and Research
Dates
May 8-10, 2005 – First Summer Session at Wabash College
Facilitator:
William Placher, Wabash College

Wabash Center Participants:
Lucinda Huffaker
Paul Myhre
Thomas Pearson
Description:
Theological librarians play an essential role in the educational process. Institutional standards developed by the Association of Theological Schools (ATS) highlight the need for librarians to contribute to theological scholarship – teaching, learning, and research – in ways specific both to the profession and to the particular school, its mission, curriculum, and resources. Yet in practice the means of fulfilling this expectation are not always clear or immediately available to librarians. This conference will explore the vocation of theological librarianship and promote the development of strategies and skills for increasing the effectiveness of librarians in the teaching/learning/research process in their own institutional and professional contexts.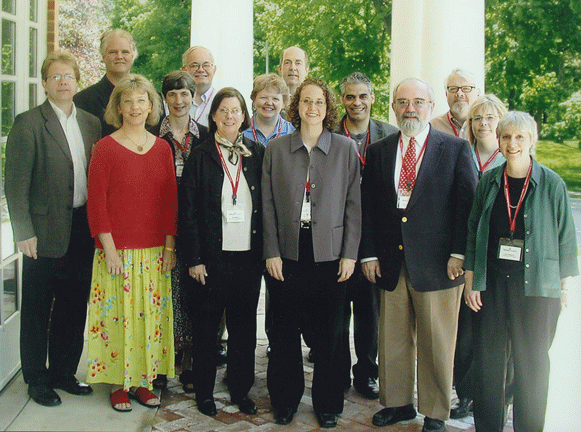 Front Row (left to right):*Lucinda Huffaker (Wabash Center), Sara Myers (Columbia Theological Seminary), Laura Wood (Harvard University), Paul Stuehrenberg (Yale Divinity School), Carol Newsom (Candler School of Theology).
Second Row: Paul Myhre (Wabash Center), Eileen Saner (Associated Mennonite Biblical Seminary), Joretta Marshall (Brite Divinity School), Miguel Diaz (St. John's University), Margot Lyon (American Theological Library Association).
Third Row: Thomas Pearson (Wabash Center), William Placher (Wabash College), Joel Green (Asbury Theological Seminary), *Dennis Norlin (American Theological Library Association).
*leadership/staff