2006 Conference on
Women as Teachers and Mentors
Dates 

August 9-13, 2006 –
Wabash College
Leadership Team
Shannon Clarkson, San Francisco Theological Seminary
Letty Russell, Yale Divinity School
Elisabeth Schussler Fiorenza, Harvard Divinity School
Judith Plaskow, Manhattan College
Lucinda Huffaker, Wabash Center

Description:
This week-long consultation gathered women who are teaching in theological schools and those who are a part of religious organizations which intersect with different aspects of theological education (including publishers, educational foundations, resource centers, and women in ministry groups). The purpose of the consultation was to build connections between persons and organizations that would strengthen the educational missions of the organizations. Invited participants also spanned generations so that the question of mentoring could be addressed.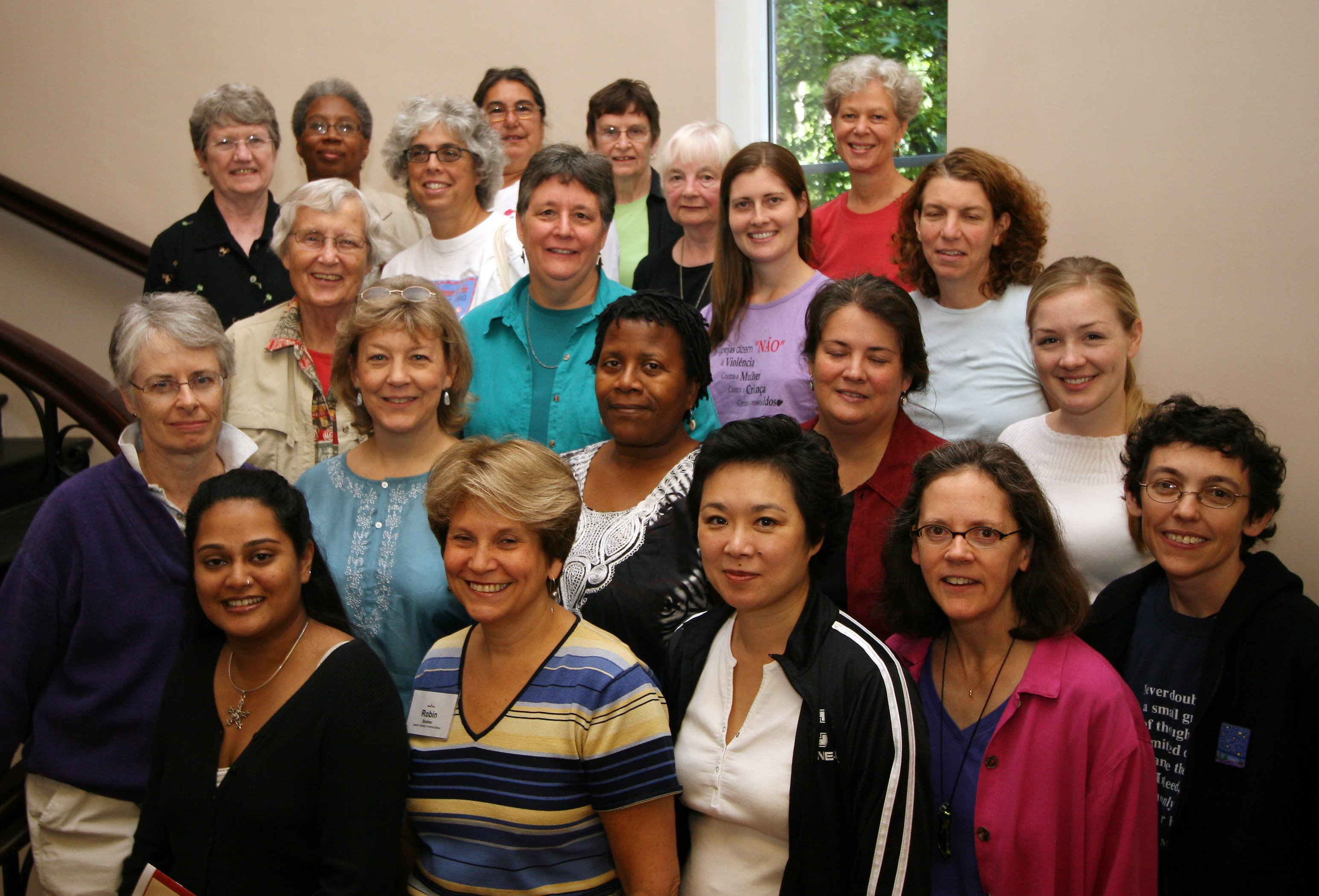 Front Row (left to right): Cyra Choudhury (The Foundation for the Advancement of Women in Religion), Robin Bodner (Jewish Orthodox Feminist Alliance), Su Yon Pak (Union Theological Seminary, NY), Jeanette Stokes (Resource Center for Women and Ministry in the South, Inc.), Sarra Lev (Reconstructionist Rabbinical College).
Second Row: Marie Fortune (FaithTrust Institute), *Lucinda Huffaker (Wabash Center), Jacquelyn Smith-Crooks (Office of Community Outreach Programs, Cambridge), Nancy Pineda-Madrid (Institute for Religious Education and Pastoral Ministry, Boston College), Aisha Taylor (Women's Ordination Conference).
Third Row: *Letty Russell (Yale Divinity School), Mary Hunt (Women's Alliance for Theology, Ethics and Ritual), Kate Ott (Feminist Studies in Religion Website), Sally Gottesman (Moving Traditions).
Fourth Row: *Shannon Clarkson (San Francisco Theological Seminary), Donna Bivens (Women's Theological Center), Clare Kinberg (BRIDGES: A Jewish Feminist Journal), Rosemary Gibbons (University of Washington), Carolyn Farrell (Loyola University, Chicago), *Elisabeth Schüssler Fiorenza (Harvard Divinity School), Nadine Pence (Wabash Center)

Not Pictured: *Judith Plaskow (Manhattan College).
* leadership/staff