2007-08 Workshop on Teaching and Learning for Pre-Tenure Theological School Faculty
Dates
June 13-19, 2007 – First Summer Session at Wabash College
February 21-24, 2008 – Winter Session at Mustang Island
June 10-15, 2008 – Second Summer Session at Wabash College
Leadership Team
Amy Oden, Wesley Theological Seminary-Director
William Cahoy, St. John's University School of Theology
Rolf Jacobson, Luther Seminary
Lynne Westfield, Drew University Theological School
Paul Myhre, Wabash Center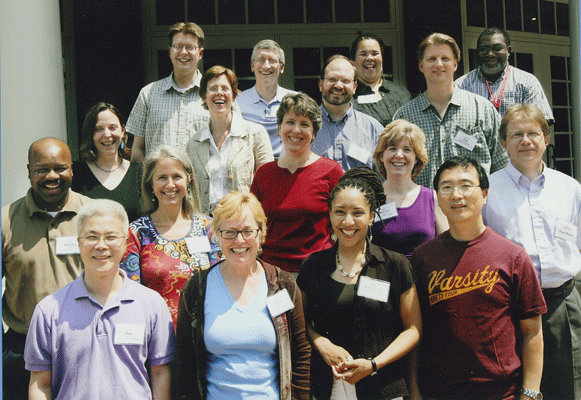 Front Row (left to right): Don Sik Kim (Garrett-Evangelical Theological Seminary), Elaine Heath (Perkins School of Theology), Monica Coleman (Lutheran School of Theology at Chicago), Yung-Suk Kim (Virginia Union University).
Second Row: Johnny Hill (Louisville Presbyterian Theological Seminary), *Amy Oden (Wesley Theological Seminary), Lisa Dahill (Trinity Lutheran Seminary), Melissa Kelley (Weston Jesuit School of Theology), *Paul Myhre (Wabash Center).
Third Row: Andrea Dickens (United Theological Seminary, Dayton), Barbara McClure (Vanderbilt University Divinity School), Todd Billings (Western Theological Seminary), Tim Hessel-Robinson (Brite Divinity School).
Fourth Row: Daniel Joslyn-Siemiatkoski (Church Divinity School of the Pacific), *William Cahoy (Saint John's University School of Theology), *N. Lynne Westfield (Drew Theological School), Horace Six-Means (Hood Theological Seminary).
Not Pictured: *Rolf Jacobson (Luther Seminary).
* leadership/staff