2008-09 Workshop on Teaching and Learning for
Latino/a Faculty at Colleges, Universities, and Theological Schools
Dates
July 22-28, 2008 – First Summer Session at Wabash College
January 29 – February 1, 2009 – Winter Session atHacienda Hotel, Old Town San Diego, CA
June 17-22, 2009 – Second Summer Session at Wabash College
Leadership Team
Jean-Pierre Ruiz, Director, St. John's University
Elizabeth Conde-Frazier, Claremont School of Theology
Carmen Nanko-Fernandez, Catholic Theological Union
Jose Irizarry-Mercado, McCormick Theological Seminary
Joanne Rodriguez, Hispanic Theological Initiative
Paul Myhre, Wabash Center Facilitator

Description:
This colloquy will gather Latino/a faculty by invitation who are teaching at colleges, universities, and theological schools for sustained conversation about pedagogy. The goal of the conversation will be to identify the distinctives and commonalities among Latino/a faculty in their teaching and learning styles and to contribute toward a supportive network of Latino/a scholars.

Stipend:
All participants will receive a stipend of $3000 for full participation in all three meetings of the colloquy, plus local expenses and travel.

Please Note: U.S. Law prohibits the Wabash Center from paying stipends to certain classes of foreign national status.

Read More
* Immigration status has no bearing on the Wabash Center's selection of participants, but only on our ability to pay these participants a stipend. We deeply regret these restrictions but are confident that participants who are not eligible for a stipend will nonetheless find our programs valuable even without a stipend. The Wabash Center is, however, able to reimburse ALL participants for all local expenses and travel for the workshop or colloquy.


Follow-Up Grant or Fellowship
that specifically addresses a particular pedagogical issue related to teaching and learning for Latino/a faculty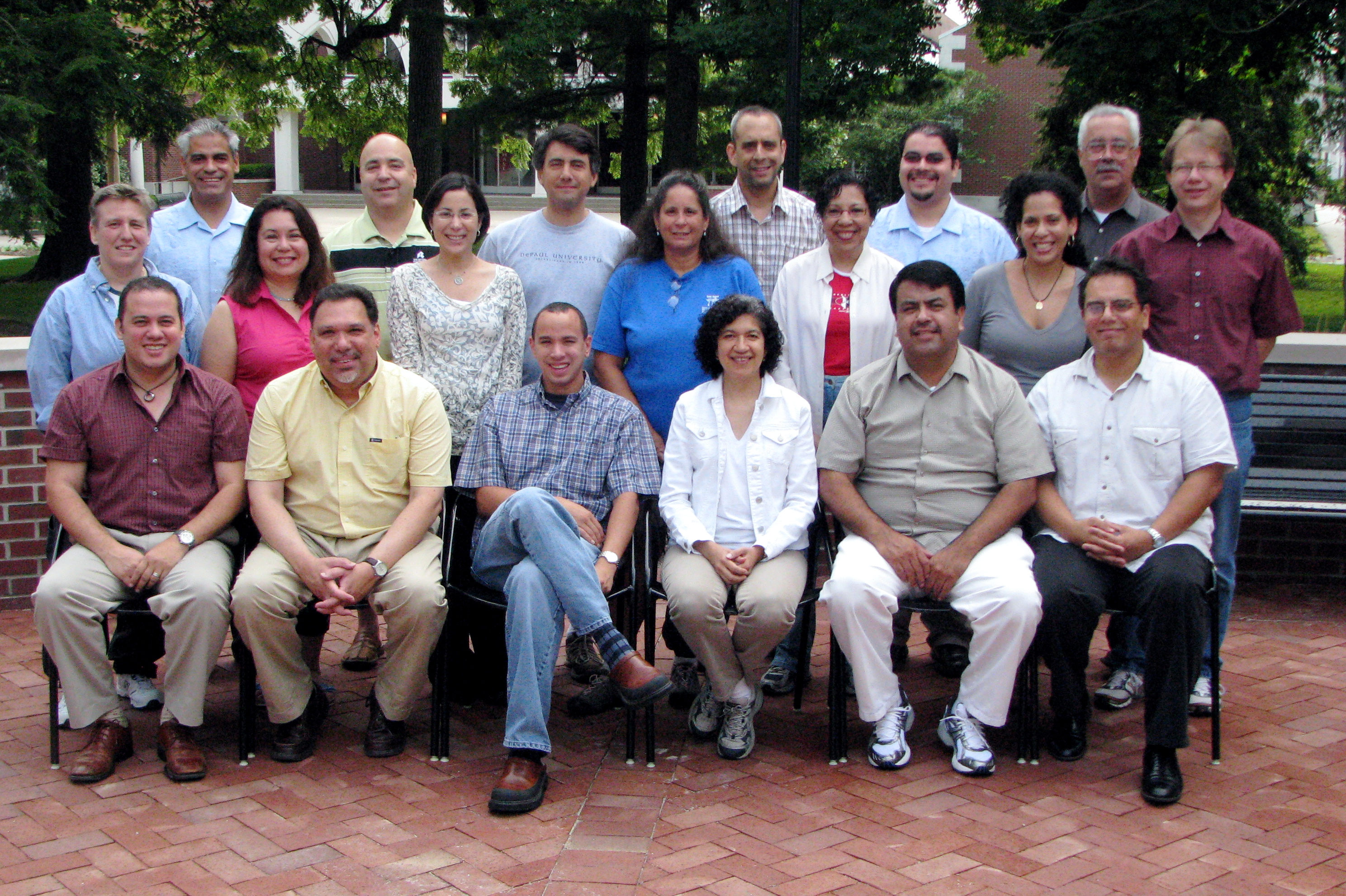 Front Row (left to right): *José Irizarry-Mercado (Seminario Evangelico de Puerto Rico),  Efrain Agosto (Hartford Seminary), Hjamil Martínez Vázquez (Texas Christian University), *Elizabeth Conde-Frazier (Claremont School of Theology), Daniel Ramirez (Arizona State University), Ruben Rosario-Rodriguez (Saint Louis University). 
Second Row: *Carmen Nanko-Fernández (Catholic Theological Union of Chicago), Theresa Torres (University of Missouri, Kansas City), Mayra Rivera (Pacific School of Religion), Milagros Peña (University of Florida), Loida Martell-Otero (Palmer Theological Seminary), Maria Teresa Davila (Andover Newton Theological School), *Paul Myhre (Wabash Center). 
Third Row: Miguel Diaz (Saint John's School of Theology  Seminary), David Sanchez (Loyola Marymount University), Peter Casarella (DePaul University), Jorge Aquino (University of San Francisco), Leopoldo Sánchez (Concordia Seminary, St. Louis), *Jean-Pierre Ruiz (St. John's University, Jamaica, NY).
*leadership/staff