2009 Conference
Reflecting on the Pedagogy of Online Theological Education
Dates
October 9-11, 2009 – IUPUI Indianapolis, IN
Leadership Team
Mary Hess, Luther Seminary
Richard Nysse, Luther Seminary
Dan Ulrich, Bethany Theological Seminary
Nadine Pence, Wabash Center
Thomas Pearson, Wabash Center
Paul Myhre, Wabash Center

From 2006 through 2008 82 faculty members from 66 theological schools enrolled in the Wabash Center's online course for theological school faculty teaching online (offered through the University of Wisconsin's Distance Education Certificate Program).

This conference was an opportunity to take stock, and articulate what we have learned about the challenges and opportunities of teaching online.

We gathered some alumni from the three summer's online courses, together with leading innovators in the field and other stakeholders, to reflect upon the nature of online pedagogy and the teaching and learning outcomes associated with it.

What are we learning about online education and what do we see as its future?

What aspects of online education create pedagogical differences?

How does ministerial formation evolve through online learning?

What are the implicit habit and skills that are taught in online learning?

What is being learned when a course is offered online?
---
Goals of the Conference
Individuals will have shared practices and questions which each will subsequently engage in their home context;
Essential teaching and learning questions will have been framed;
The conference will have contributed to the development of a community of reflective practitioners of online teaching and learning.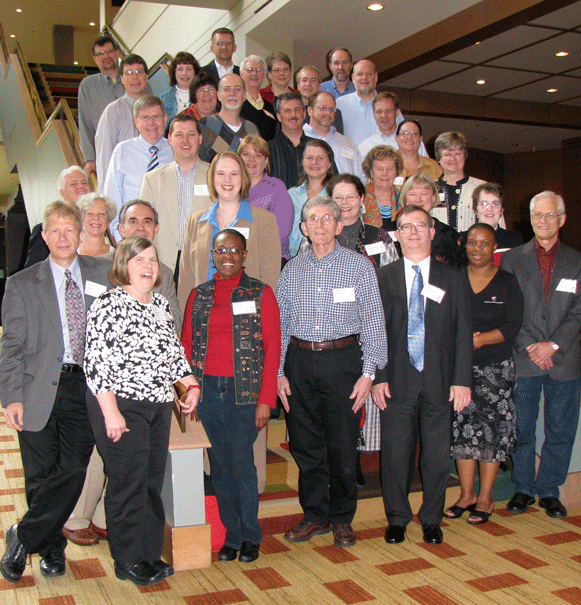 Column 1: Cindy Kissel-Ito (Union Theological Seminary – PSCE), *Paul Myhre (Wabash Center), George Thompson (Interdenominational Theological Center), *Nadine Pence (Wabash Center), *Thomas Pearson (Wabash Center). 

Column 2:  Julia Speller (Chicago Theological Seminary), Melinda Thompson (University of Dubuque Theological Seminary), Michael Matlock (Asbury Theological Seminary), Peter Gräbe (Regent University School of Divinity), *Dan Ulrich (Bethany Theological Seminary), Darwin Glassford (Calvin Theological Seminary). 

Column 3:  Cameron Murchison (Columbia Theological Seminary), Elizabeth Drescher (Church Divinity School of the Pacific), Tim Sensing (Abilene Christian University), Barbara Radtke (Boston College), Kathy Dawson (Columbia Theological Seminary). 

Column 4: Barry Hamilton (Northeastern Seminary at Roberts Wesleyan College), Tara Hornbacker (Bethany Theological Seminary), Julie Lytle (Episcopal Divinity School), Robert Dale Hale (Asbury Theological Seminary), Robert O'Gorman (Loyola University Chicago), Jaroslav Skira (Regis College). 

Column 5:   Masego Kebaetse (Palmer Theological Seminary-Eastern University), *Mary Hess (Luther Seminary),  Angela Zukowski (University of Dayton), Christopher Anderson (Washington Theological Union, DC), David Johns (Earlham School of Religion), Kristen Lund (Waterloo Lutheran Seminary). 

Column 6: Dennis Smith (Phillips Theological Seminary), Jennifer Woodruff Tait (Huntington University), Barbara Anne Keely (United Theological Seminary of the Twin Cities), Vickie Taylor (Ashland Theological Seminary), Greg Sobolewski (St. Mary's University of Minnesota), Steve Delamarter (George Fox Evangelical Seminary),  *Richard Nysse (Luther Seminary.

 *Denotes Leadership