2010-11 Teaching and Learning Colloquy for
Theological School Deans: Changing Times for Theological Education
Dates
May 27-June 2, 2010 – Summer Session at Wabash College
January 10-14, 2011 – Winter Session at Mustang Island
Leadership Team
Michael Jinkins, Austin Presbyterian Theological Seminary
Melanie A. May, Colgate Rochester Crozer Divinity School
Paul Myhre, Wabash Center  

Eligibility:
full-time chief academic officer in an accredited seminary or theological school in the United States or Canada (commenced position by May 2010)
commitment to full participation from the opening to closing session for both workshop meetings
Read our Policy on Full Participation (click here)
---
Description:
This colloquy will gather 15 deans from theological schools in the United States and Canada for two sessions to focus on the unique role and responsibility of academic deans in theological education. This focus is predicated on careful attention to emerging trends and new models of theological education for the complex 21st-century world. Set in this context, it is clear that the dean's leadership role and responsibility is more demanding today than ever. The increasingly complex role of the dean requires, first and foremost, the unswerving capacity to be guided by educational mission, as informed by integrative theological reflection. The dean's role also calls for exceptional communication skills to articulate this mission to a school's diverse constituencies.
This colloquy will explore how deans nurture the wider aims and purposes of theological education, seeking ways in which deans can renew their vision for theological education's crucial and irreplaceable mission while attending to scholarly, pedagogical, administrative, and ecclesial relationships that frame every aspect of the dean's work. Issues to be explored include:
advancing a school's educational mission in an environment of shifting economic paradigms, aware that deans are frequently a school's foremost advocate for this mission among administrative colleagues, members of Boards of Trustees, the faculty and students, and related constituencies;
strengthening the ecclesial connections that undergird theological schools, realizing theological education is never an exclusively academic enterprise, nor an enterprise best engaged in reacting to momentary anxieties and infatuations of church and society, since education entails challenge as well as preparation;
forging connections with diverse arenas of public life wherein religion plays a more and more crucial role, in order to revise curricula for the preparation of women and men of faith for leadership in these arenas;
encouraging cross-disciplinary and interdisciplinary conversation among faculty colleagues, including integrative learning experiences for students, aware that life requires practitioners to bring a full range of understandings, attitudes, knowledge and skills to bear in order to engage in ministerial leadership in congregations, in nonprofits and chaplaincies, and in other arenas of public life;
becoming more effective interpreters among schools, and regional and theological accrediting bodies, so the best aspects of peer accountability structures (represented by the accrediting bodies) contribute to their schools' educational mission, while other aspects of the accrediting process do not distract the faculty from its distinctive role and responsibility;
providing institutional leadership for multifaceted discussion of both the potential for information technologies to enhance the educational mission and to enable multiple educational delivery systems, on one hand, and of the need for residential and hybrid learning models, given the limits of these technologies, on another hand, all the while balancing the "end game" of theological education with the interests of a school's diverse constituencies.
Colloquy Goals:
This colloquy is designed to provide a forum in which deans explore the overall mission of theological education, articulate new insights, reflect on their own leadership styles and best practices—in community with others engaged in the unique vocation of academic deanship in a theological school.
Out of this exchange, we envision goals that will:
articulate—from the perspective of academic deans in theological schools—a creative vision for theological education in the 21st century
generate published and personal resources to assist deans to understand their distinctive role and responsibility in this newly emerging context, and in relation to shifting institutional priorities amid attendant challenges
create resources to address the particular challenges that present themselves to theological deans, given societal, ecclesial, and institutional realities, and to inspire deans to bring to their multifaceted role and responsibility a life-renewing imagination
identify ways to support deans' professional balance of attention to daily tasks and creative reflection on the mission of theological education
enhance professional capacities to relate well to diverse constituencies as emerging trends and new models for theological education present new challenges and opportunities
encourage academic deans to develop specific action plans that nourish their own vocations, improve relationships with colleagues in leadership, faculty, and constituencies, and enhance professional capacities as they seek to promote their school's pursuit of theological education in service to church and society
---
Stipend:
Participants will receive a stipend of $2,500 for full participation in both sessions, plus local expenses and travel.
Please Note: U.S. Law prohibits the Wabash Center from paying stipends to participants with certain classes of foreign national status. The Wabash Center is, however, able to reimburse ALL participants for travel and other expenses.


Read More (click here)
Immigration status has no bearing on the Wabash Center's selection of participants. It impacts only our ability to pay these participants a stipend. We deeply regret these restrictions but are confident that participants who are not eligible for a stipend will nonetheless find our programs valuable even without a stipend.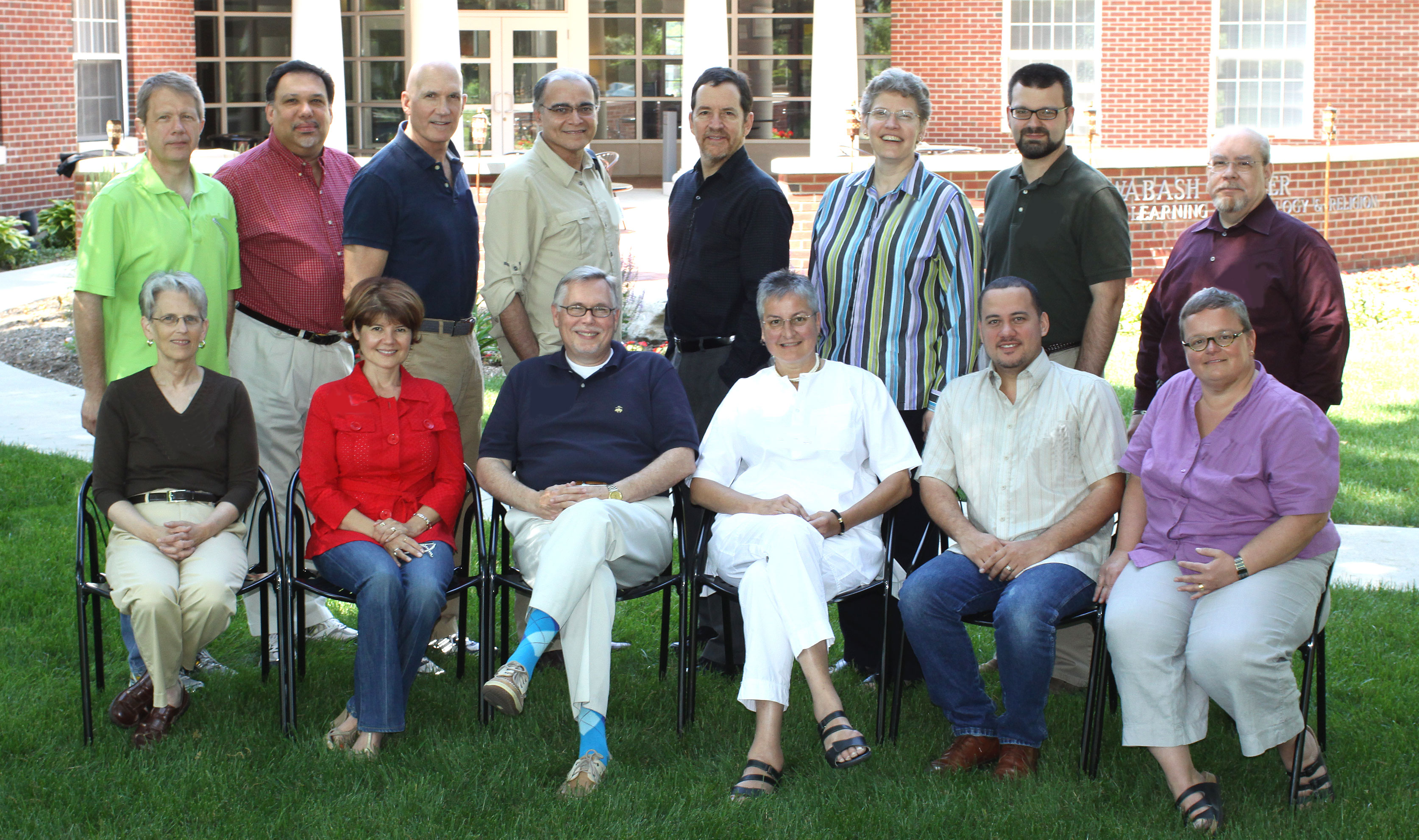 Front Row (left to right):  Rebecca Slough (Associated Mennonite Biblical Seminary), Zaida Maldonado Pérez (Asbury Theological Seminary – Florida), *Michael Jinkins (Austin Presbyterian Theological Seminary), *Melanie Duguid-May (Colgate Rochester Crozer Divinity School), José Irizarry-Mercado (Evangelical Seminary of Puerto Rico), Angela Bauer-Levesque (Episcopal Divinity School). 
Second Row: *Paul Myhre (Wabash Center), Efrain Agosto (Hartford Seminary), James Kay (Princeton Theological Seminary), Luis Rivera Rodriguez (McCormick Theological Seminary), Mark Markuly (Seattle University), Robin Steinke (Lutheran Theological Seminary at Gettysburg), Steven Schweitzer (Bethany Theological Seminary), Israel Galindo (Baptist Theological Seminary at Richmond). 
*leadership/staff