2010-11 Teaching and Learning Colloquy for
Mid-Career Theological School Faculty
Dates
July 12-17, 2010 – First Summer Session at Wabash College
January 27-30, 2011 – Winter Session at Mustang Island
June 13-18, 2011 – Second Summer Session at Wabash College
Leadership Team
Willie James Jennings, Duke Divinity School, Director
Robert Pazmiño, Andover Newton Theological School
Amy Oden, Wesley Theological Seminary
Virginia Wiles, New Brunswick Theological Seminary
Paul Myhre, Wabash Center

Description:
This colloquy will gather 14 teachers who are in their mid-years of teaching, from the granting of tenure (or its equivalent) to the last decade or so before retirement. This period in a teaching career presents its own particular challenges for teaching and learning. This is a time when reflection can help mid-career faculty to identify possibilities, renew commitment, venture in a heretofore unconsidered direction, and compose a more clarified sense of self and purpose.
This year's mid-career colloquy will take as its organizing theme, "The Art of the Teaching Life" giving faculty the opportunity to reflect on their identities as teachers in their institutions through the identities of artists. How might our understanding of the teaching life be deepened by imagining its form through the identities and realities of artists? This colloquy is not aimed necessarily at those in the arts, rather we are looking for faculty who are at the point of asking questions such as:
Now that I have given myself to the teaching life, do I like who I have become or who I am becoming? Have I found my voice in the classroom, in my scholarship, at my institution? Or have I lost interest in the intellectual expressions of my discipline, my institution, or the vocation of teaching?
Now that I have gained distance from my teachers and mentors, how have I charted my own vision of the teaching life in terms of my pedagogy, my scholarship, and involvement in my institution? In what ways am I yet expressing the gratitude and/or grief of the doctoral formation process in my vocational identity?
In what ways do I sense my unique contribution to the classroom, my discipline, and my institution? Or is the uniqueness of my voice absent or weak in one or more of these crucial sites?
Where is the dream now, for my teaching, my scholarship, or my institutional life? What are the projects that now I am prepared to imagine that will demand all my wisdom, experience, and skill? If here is no dream now, what does that mean?
Where do I want to take the students with the art of teaching? Is it the same places I have grown accustomed to taking them and do I remain satisfied with the destination? Or are there new places I want to go and have them go with me?
Do I sense generational, cultural, theological, political, and ideological differences from my students and what does that mean for my life as their teacher?
Is the health of my institution such that I will have to imagine taking on a greater leadership role or must I now begin to imagine the teaching life apart from my institution or even apart from a foreseeable teaching position?
Colloquy Goals:
The overarching goal of the colloquy will be to engage in sustained reflection on the teaching life in terms of our work in the classroom environment, our scholarship, and our citizenship in our theological institution through the identities of artists. We will do this through:
Reflecting carefully on the teacher as artist by considering the formation of artists, noting the parallels, differences, and points of convergence
Comparing pedagogical form to artistic form by considering the best practices available in teaching and learning in relation to various artistic media (for example, in acting, dancing, oratory, singing, playing an instrument, painting, sculpting, and other forms of crafting)
Exploring the significance of a "life with students," and the necessary relationships for sustaining such an "exposed" life
Exploring the mentoring, nurturing, facilitating, and directing characteristics of a "life that teaches" by comparing the embodied wisdom of a teacher with the intimate relation of the artist and her art
Reflecting on the political nature of the teaching life in its context and content, and its problems and possibilities
Forming a modest project that will deepen participant familiarity with an artistic form
Building relationships that will support and sustain participants during the time of the colloquy, and hopefully beyond
---
Stipend:
Participants will receive a stipend of $3,000 for full participation in the three sessions, plus local expenses and travel.

Please Note: U.S. Law prohibits the Wabash Center from paying stipends to participants with certain classes of foreign national status. The Wabash Center is, however, able to reimburse ALL participants for travel and other expenses.
Read More (click here)
Immigration status has no bearing on the Wabash Center's selection of participants. It impacts only our ability to pay these participants a stipend. We deeply regret these restrictions but are confident that participants who are not eligible for a stipend will nonetheless find our programs valuable even without a stipend.
Follow-up grant or fellowship:
Participants will be eligible to apply for a follow-up grant or fellowship of $1,000 for deepening a sense of artistry or spiritual direction tied to teaching and learning. Details will be provided during the colloquy.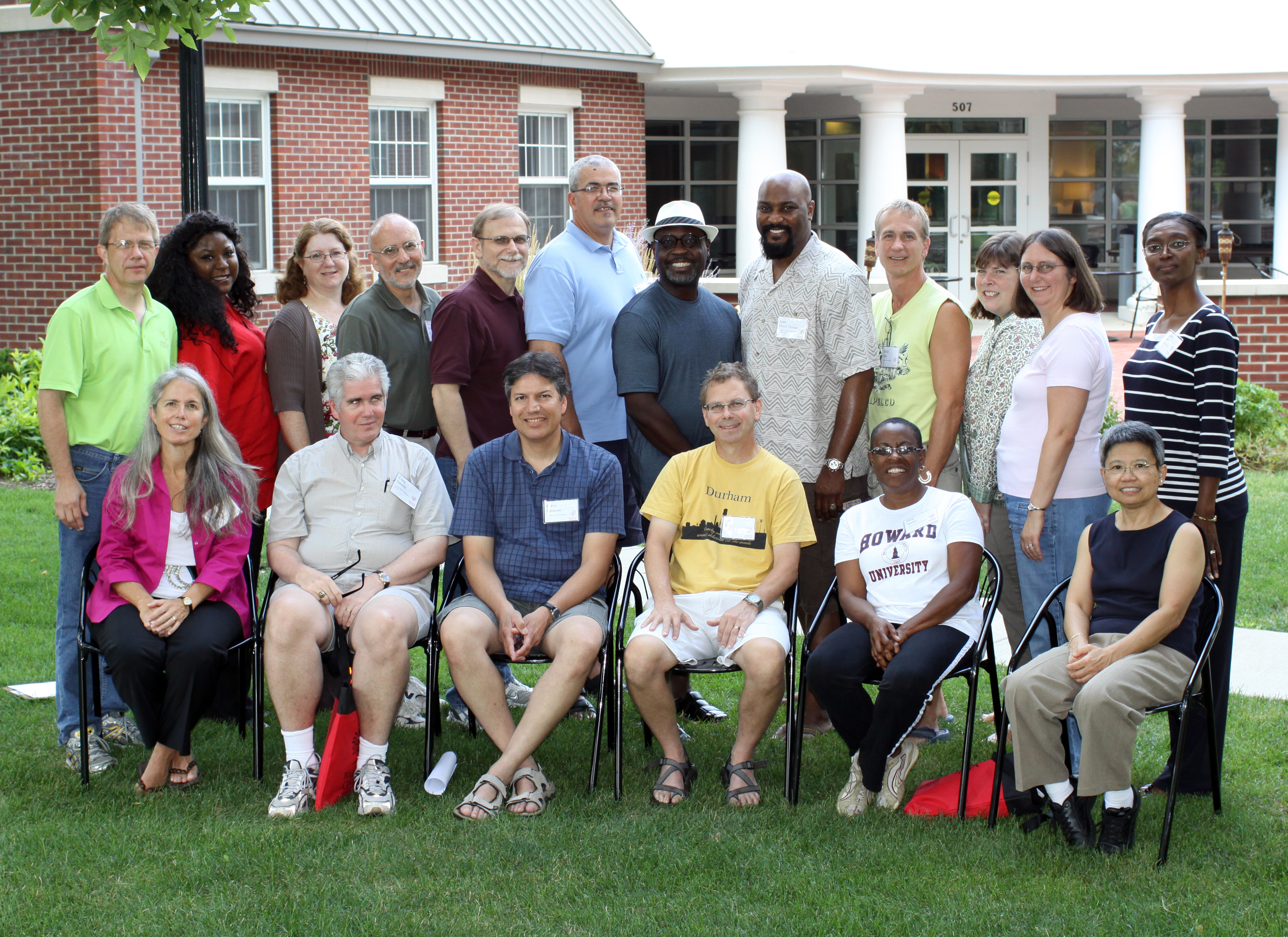 Front Row (left to right): *Amy Oden (Wesley Theological Seminary), Craig Satterlee (Lutheran School of Theology at Chicago), Rollin Ramsaran (Emmanuel School of Religion), Fred Edie (Duke Divinity School), Julia Speller (Chicago Theological Seminary), Lai Ling Elizabeth Ngan (Truett Theological Seminary of Baylor University).

Second Row: *Paul Myhre (Wabash Center), Stacey Floyd-Thomas (Vanderbilt University/The Divinity School), Carol Bechtel (Western Theological Seminary), *Robert Pazmiño (Andover Newton Theological School), Klaus Issler (Talbot School of Theology/Biola University), Bruce Fields (Trinity Evangelical Divinity School), *Willie James Jennings (Duke Divinity School), Juan Floyd-Thomas (Vanderbilt University/The Divinity School), David Johns (Earlham School of Religion), Lisa Withrow (Methodist Theological School in Ohio), Ruth Anne Reese (Asbury Theological Seminary), Mignon Jacobs (Fuller Theological Seminary).

Not Pictured *Virginia Wiles (New Brunswick Theological Seminary).

*leadership/staff