2010-11 Teaching and Learning Colloquy on
Religious Commitments in the Undergraduate Classroom
Dates
July 19-24, 2010 – First Session at Wabash College
March 23-27, 2011 – Second Session at Mustang Island
Leadership Team
Carolyn Medine, University of Georgia, Director
Joseph Favazza, Stonehill College
Kathleen Skerrett, Grinnell College
Daniel Deffenbaugh, Hastings College
Thomas Pearson, Wabash Center

Description:
Recent studies, including the HERI Report and Barbara Walvoord's study of undergraduate introductory courses in religion (see links on the right above), suggest that most students come into the college classroom with expectations that their "big questions" will be addressed: e.g. self-understanding, development of personal values, and expression of spirituality. By contrast, faculty members tend to emphasize critical thinking and analytical distance as primary learning outcomes for their courses.

This colloquy of 20 faculty will address this tension between student expectations and faculty goals. We invite religious studies and theology faculty in undergraduate colleges and universities to explore teaching practices that encourage students to integrate their religious and ethical commitments with critical thinking.

Such practices might include activist pedagogies (such as service learning, feminist pedagogies, contemplative pedagogies, education for social justice) as well as more established approaches (such as reflective journaling, servant leadership, and spiritual autobiography).

Through common readings, guided conversation, and sharing and analysis of teaching practices, this colloquy will engage the relationship between informing and transforming our students.

Colloquy Goals:
1. To form a learning community of reflective practitioners rooted in conversation and cooperation

2. To develop teaching practices that enable students to:
connect critical thinking to development, commitment and action
reflect on the meaning of their commitments
integrate religious commitments with other aspects of their personal identities
interpret their commitments in a global and pluralistic context
3. To reflect on our teaching practices in the context of:
institutional missions
teaching goals and outcomes
measures and instruments of assessment
professional and personal identities
student and guild expectations
---
Stipend:
Participants will receive a stipend of $2,500 for full participation in the two sessions, plus local expenses and travel.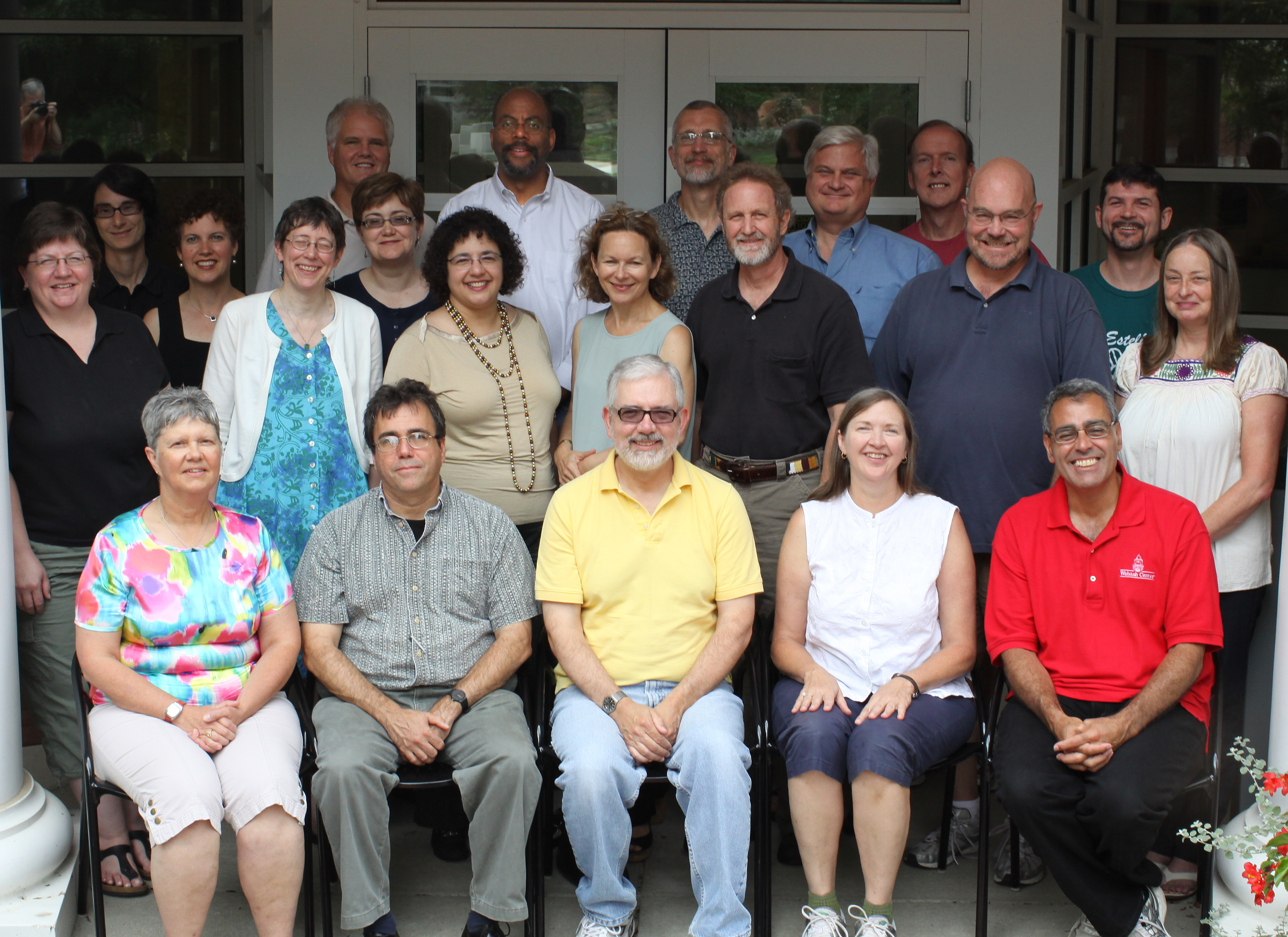 Front Row (left to right):  Kristine Utterback (University of Wyoming), Kerry Skora (Hiram College), Steve Young (McHenry County College), Michelle Tooley (Berea College), *Joseph Favazza (Stonehill College).  
Second Row: Dianne Oliver (University of Evansville), Kathleen Fisher (Assumption College), *Carolyn Medine (University of Georgia), *Kathleen Skerrett (Grinnell College), *Daniel Deffenbaugh (Hastings College), David Howell (Ferrum College), Suzanne Morrison (Ohio Northern University). 
Third Row: Ann Pellegrini (New York University), Georgia Frank (Colgate University), *Thomas Pearson (Wabash Center), Hannah Schell (Monmouth College), Arthur Sutherland (Loyola University Maryland), Charles Miller (University of North Dakota), Phil Quanbeck (Augsburg College), Fred Glennon (LeMoyne College), Phil Wingeier-Rayo (Pfeiffer University).
*leadership/staff