2010-11 Writing the Scholarship of Teaching
Dates
October 1-4, 2010 – First Session at Wabash College
February 25-28, 2011 – Second Session at Wabash College
Leadership Team
Patricia O'Connell Killen, Pacific Lutheran University
Eugene V. Gallagher, Connecticut College
Thomas Pearson, Wabash Center

Description:
The purpose of this colloquy is to cultivate the scholarship of writing about teaching among teachers of religion and theology in colleges, universities, seminaries and divinity schools. The colloquy will gather a small group of experienced and critically reflective teachers for a year-long process of writing and conversation about writing the scholarship of teaching and learning. The colloquy involves two weekends and assignments between the sessions.
Participants will work on their own article length manuscript through the course of the colloquy year, engage in peer review, and converse about writing this genre. The colloquy is designed with the intention that each participant will produce a publishable essay in the scholarship of teaching and learning in theology and religion.
Colloquy Goals:
Provide a supportive context within which participants develop and produce publishable work in the scholarship of teaching in theology and religion
Facilitate reflection on writing the scholarship of teaching and learning in theology and religion that helps to articulate general characteristics of quality and to refine forms of the genre
Identify strategies that will support the production of high quality scholarship of teaching and learning
Increase the number of persons in the field who are conversant with the scholarship of teaching and learning in theology and religion as well as the broader scholarship on teaching and learning
---
Stipend:
Participants will receive a stipend of $1,500 for full participation in both sessions, plus local expenses and travel.
Participants will receive an additional stipend of $500 for submission of an article manuscript on teaching to either Teaching Theology and Religion, or some other appropriate academic journal, by January 1, 2012.
Please Note: U.S. Law prohibits the Wabash Center from paying stipends to participants with certain classes of foreign national status. The Wabash Center is, however, able to reimburse ALL participants for travel and other expenses.
Read More (click here)

Immigration status has no bearing on the Wabash Center's selection of participants. It impacts only our ability to pay these participants a stipend. We deeply regret these restrictions but are confident that participants who are not eligible for a stipend will nonetheless find our programs valuable even without a stipend.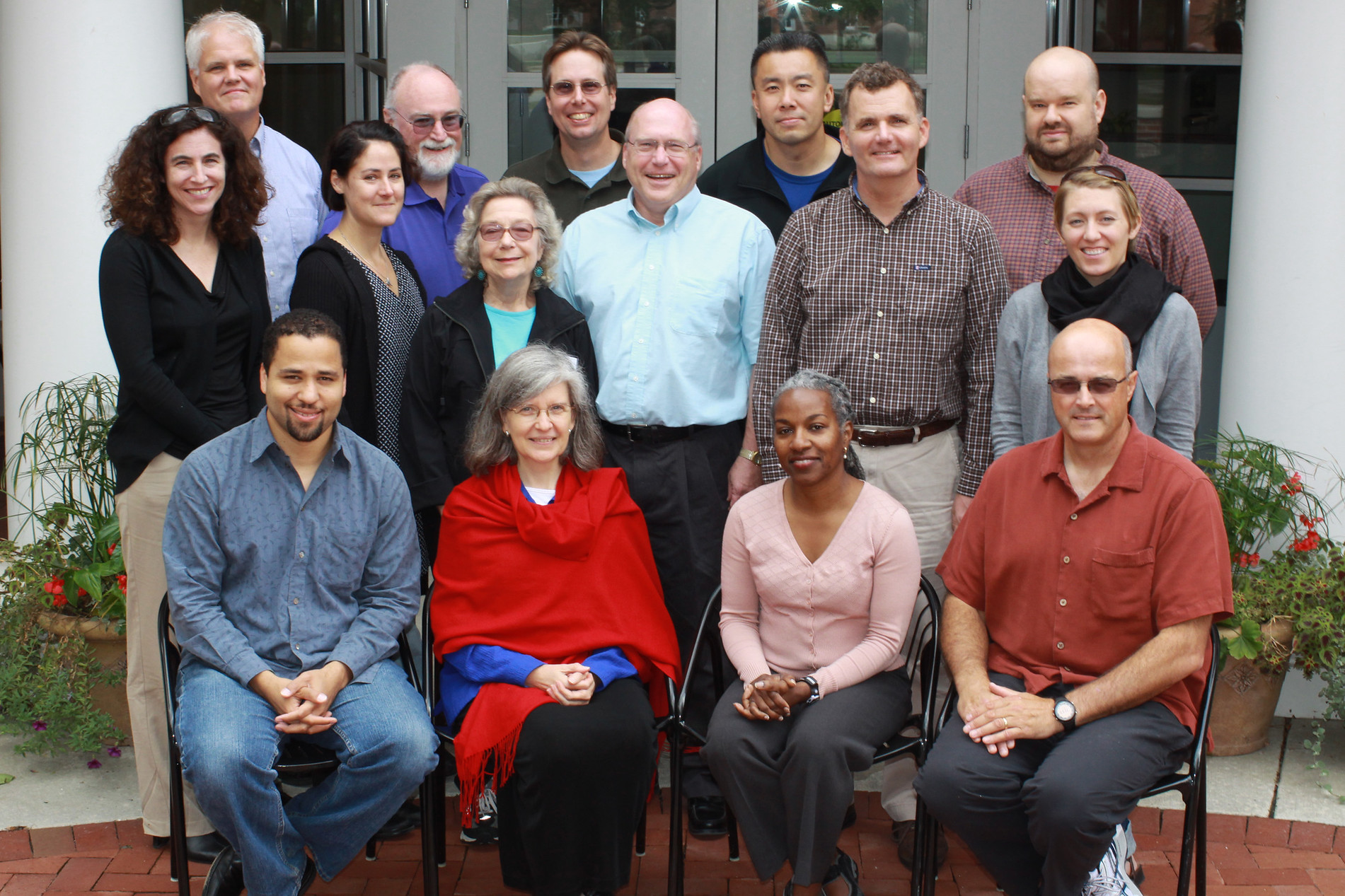 Front Row (left to right):  Luke Powery (Princeton Theological Seminary), *Patricia O'Connell Killen (Gonzaga University), Gay Byron (Colgate Rochester Crozer Divinity School), Norris Palmer (Saint Mary's College of California). 
Second Row:  Joanne Robinson (University of North Carolina – Charlotte), Elizabeth Corrie (Candler School of Theology – Emory University), Lucretia Yaghjian (Episcopal Divinity School), Bruce Forbes (Morningside College), Michael Koppel (Wesley Theological Seminary), Kristi Upson-Saia (Occidental College). 
Third Row:  *Thomas Pearson (Wabash Center), *Eugene Gallagher (Connecticut College), Reid Locklin (University of Toronto), Arch Wong (Ambrose Seminary), Elijah Siegler (College of Charleston). 
*leadership/staff