2012-13 Teaching and Learning Workshop for
Pre-Tenure Latino/a Religion Faculty in Theological Schools, Colleges, and Universities
Dates
July 23-28, 2012 – First Summer Session at Wabash College
January 17-20, 2013 – Winter Session at Mustang Island
July 8-13, 2013 – Second Summer Session at Wabash College
Leadership Team
Elizabeth Conde-Frazier, Director, Esperanza College
Miguel A. De La Torre, Iliff School of Theology 
Eduardo C. Fernández, S.J., Jesuit School of Theology, GTU
Ana María Pineda, Santa Clara University
Paul Myhre, Wabash Center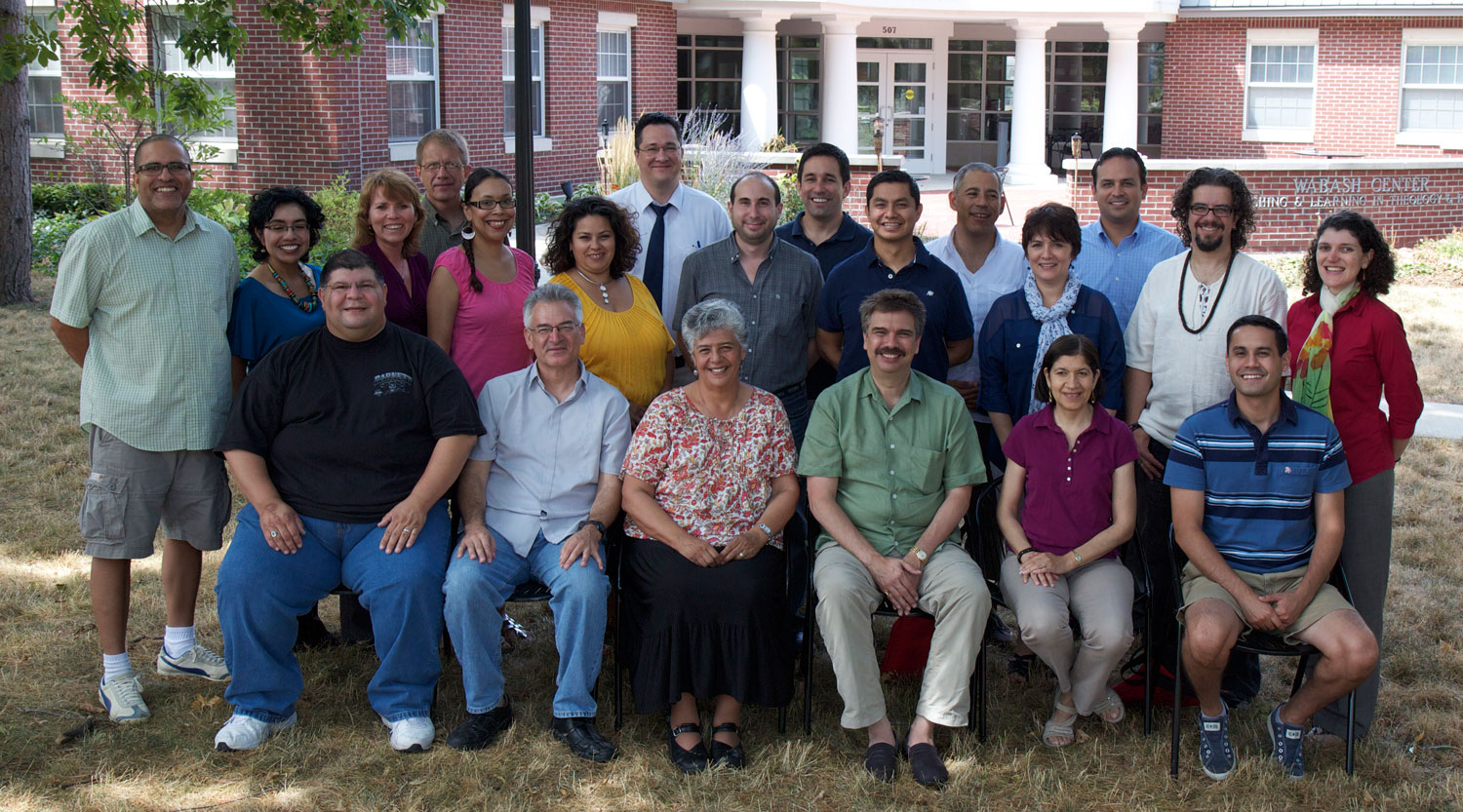 Front Row (left to right): Santiago Piñon (Texas Christian University), *Eduardo Fernández, S.J. (Jesuit School of Theology, GTU), *Ana María Pineda (Santa Clara University), *Miguel De La Torre (Iliff School of Theology), *Elizabeth Conde-Frazier (Esperanza College), Eric Barreto (Luther Seminary). 
Second Row:  Angel Santiago Vendrell (Asbury Theological Seminary – Florida), María Del Socorro Castañeda-Liles (Santa Clara University), Lourdes Rincón (Xavier University of Louisiana), Angela Tarángo (Trinity University), Adriana Nieto (Metropolitan State College of Denver), Santiago Slabodsky (Claremont School of Theology), Sammy Alfaro (Grand Canyon University), Déborah Junker (Christian Theological Seminary), Cláudio Carvalhaes (Lutheran Theological Seminary at Philadelphia), Jacqueline Hidalgo (Williams College). 
Third Row:  *Paul Myhre (Wabash Center), Daniel Castelo (Seattle Pacific University), Christopher Tierres (DePaul University), Oscar Garcia Johnson (Fuller Theological Seminary), Gregory Cuéllar (Austin Presbyterian Theological Seminary).
*leadership/staff