2012-13 Teaching and Learning Workshop for
Pre-Tenure Religion Faculty at Colleges and Universities
Dates
July 16-21, 2012 – First Summer Session at
Wabash College
January 31-February 3, 2013 – Winter Session at Mustang Island
June 17-22, 2013 – Second Summer Session at
Wabash College
PLEASE NOTE: This workshop will not be offered in 2013-14, but it will be offered again in 2014-15.
Leadership Team
Patricia O'Connell Killen, Director, Gonzaga University
Jeffrey Brackett, Ball State University
Reid Locklin, St. Michael's College, University of Toronto
Carolyn Jones Medine, University of Georgia
Thomas Pearson, Wabash Center

Eligibility
Pre-tenure, full-time tenure-track status, or other continuing position
Teaching in an accredited college or university religion or religious studies department in the United States, Puerto Rico, or Canada
Doctoral degree completed at the time of application
Final tenure decision date no earlier than Spring 2013
Commitment to full participation from the opening to closing for all three workshop sessions
Read our Policy on Participation
Description
This workshop will gather 14 faculty in their first years of teaching for a week in two successive summers and a weekend winter retreat in a warm location. The purpose of the workshop is to create a community of committed and skilled teachers who will explore such topics as:
Strategies for effective teaching
Course design, assignments, and assessment
Teaching in one's institutional context
Dealing with religious, social, ethnic, racial, and learning diversities in the classroom
Balancing the competing demands of teaching, scholarship, service, and personal life
Issues of tenure preparation
The workshop balances plenary sessions with small group discussions, individual and collaborative work with the Wabash Center teaching resources, as well as structured and unstructured social time.
Workshop Goals
To provide a supportive context within which to explore issues of teaching and learning, including course design and classroom practice
To provide opportunity and resources for participants to better understand their teaching contexts and their students, and to develop their teaching skills
To create a context in which participants can develop a reflective practice about self and work that supports the composition of a sustainable personal and professional life
To explore the multiple communities of conversation that inform teaching and the larger purposes and publics involved in the teaching of religious and theological studies in the 21st century
Stipend
Participants will receive a stipend of $3,400 for full participation in the three sessions, plus local expenses and travel. We are limited in paying stipends to participants who are teaching in the U.S. under an H-1B visa. For further information, see the link from the workshop home page on our website.

Read More about Stipend Payments
Follow-up Summer Fellowship or Grant
All participants are eligible to apply for a research fellowship or a research grant to advance their professional development as teaching scholars. These awards are for five weeks of dedicated research and writing during the second summer of the workshop.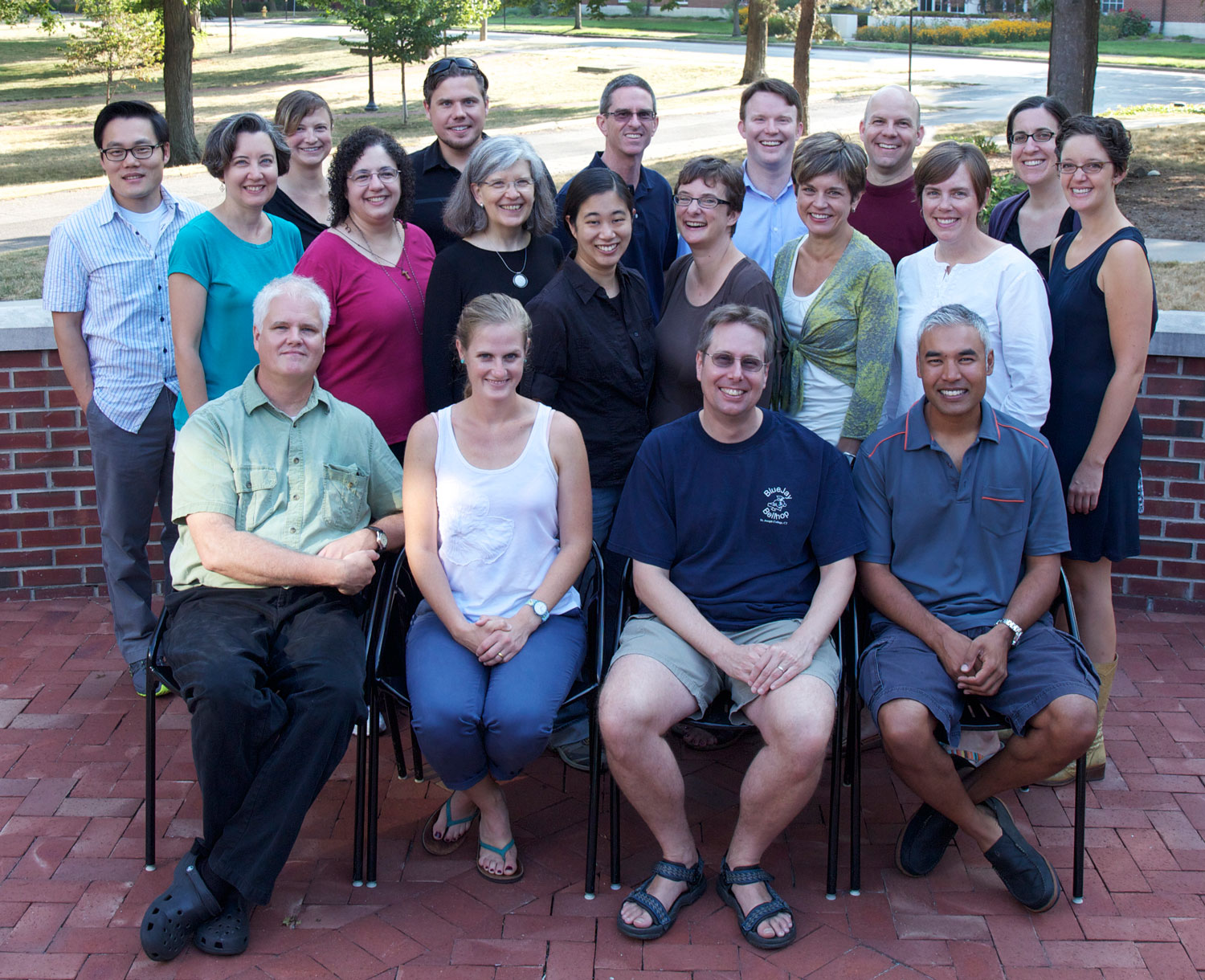 Front Row (left to right):  *Thomas Pearson (Wabash Center), Mara Brecht (St. Norbert College), *Reid Locklin (St. Michael's College, University of Toronto), Victor Thasiah (California Lutheran University). 
Second Row: Dorina Miller Parmenter (Spalding University), *Carolyn Jones Medine (University of Georgia), *Patricia O'Connell Killen (Gonzaga University), Agnes Choi (Pacific Lutheran University), Sandra Sullivan-Dunbar (Loyola University Chicago), Adrienne Ambrose (University of the Incarnate Word), Krista Hughes (Hanover College), Annie Blazer (Centenary College of Louisiana).
Third Row: Song-Chong Lee (University of Findlay, Brandilyn Denison (University of North Florida), Matthew Ingalls (University of Puget Sound), *Jeffrey Brackett (Ball State University), Robert Williamson (Hendrix College), David Whidden (Our Lady of the Lake University), Sarah Schwarz (Colorado College).
*leadership/staff position