2013 Online Workshop for
Theological Faculty Teaching Online
Dates
May 3-5, 2013 – First Session at Wabash College
May 27 to July 25, 2013 – Online course
July 26-28, 2013 – Second Summer Session at Wabash College
Leadership Team
Richard Nysse, Luther Seminary
Steve Delamarter, George Fox Seminary
Erin McCloskey, University of Wisconsin-Madison
Paul O. Myhre, Wabash Center

Description
This workshop is designed in collaboration with the University of Wisconsin-Madison for theological faculty to gain online teaching experience. It will be conducted in a "hybrid" design, with two face-to-face weekends bookending a nine-week online course. A final Webinar will be offered in December to share, discuss, and assess participants' online teaching experiences.
The online component provides hands-on experience and will use a "principles-to-practice" approach that presents guidelines and strategies for applying principles of online learning to the participant's courses. It attends to the issue of how teaching and learning changes when the class format includes geographic separation between and among learners and instructors, mediated and aided by technologies and pedagogical theory. The primary focus is on developing and implementing a successful, free-standing fully online or hybrid course. The workshop is not about technology or web design, nor will participants create videos, websites, wikis, etc. It will expose participants to technologies that may be used in online or blended learning, and attend to questions relevant for the design and implementation of curricular programs with significant distance elements.
This workshop will present major elements involved in using the Internet for instruction. No prior experience is necessary, yet course material will be valuable to those at advanced levels as well. It is a concentrated, resource-rich learning experience where participants will have the chance to review additional resources related to the topics, and address issues relevant to their teaching context.
Goals
To experience a significant stand-alone nine-week online component at the core of a hybrid course under the guidance of three experienced teachers
To learn online teaching strategies that promote interaction and engagement
To learn how community building, ministry, and spiritual formation take place within an online course
To come to an understanding of the major differences and similarities between online and face-to-face teaching and appreciate the unique opportunities and challenges of the online environment
To apply what is learned about online pedagogy to individual online courses.
Stipend
The Wabash Center will cover all local expenses and travel to Crawfordsville for the weekend sessions. Participants will also receive a stipend of $1,000 upon completion of the online course and the two-weekend sessions. We are limited in paying stipends to participants who are teaching in the U.S. under an H-1B visa.

Read More about Stipend Payments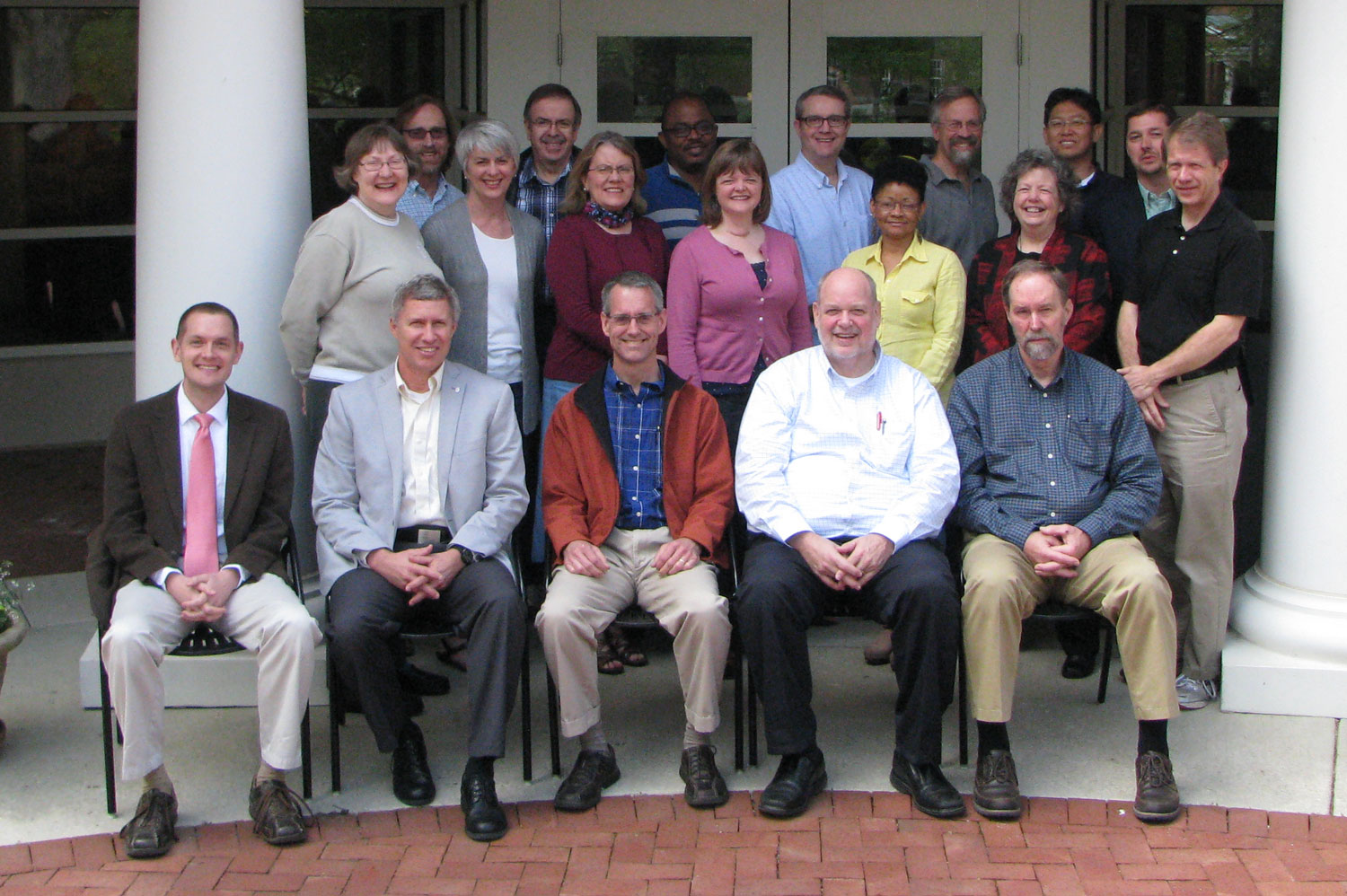 Front Row (left to right):  Merrill Hawkins (Carson – Newman College), Javier Alanis (Lutheran Seminary Program in the Southwest), Stanley Saunders (Columbia Theological Seminary), Jon Pahl (Lutheran Theological Seminary at Philadelphia). 
Second Row:  *Bridgett Powell (University of Wisconsin-Madison), Susan McArver (Lutheran Theological Southern Seminary), Mary Young (Virginia Union University), Beverly Wallace (Interdenominational Theological Center), Elaine Robinson (Saint Paul School of Theology), Lincoln Galloway (Claremont School of Theology). 
Third Row: Michael Newheart (Howard University School of Divinity), Sheri Prud'homme (Starr King School for the Ministry), Gilson Waldkoenig (Lutheran Theological Seminary at Gettysburg), Debbie Roberts (Bethany Theological Seminary), Carmen Págan Cabrera (Evangelical Seminary of Puerto Rico), *Richard Nysse (Luther Seminary), *Steve Delamarter (George Fox Evangelical Seminary), *Paul Myhre (Wabash Center).
Not pictured Liza Rankow (Starr King School for the Ministry).
*leadership/staff
---