Pedagogies for Social Justice and Civic Engagement
Grants Up to $30,000
Submission Period Closed February 15, 2019
The Wabash Center requests grant proposals for projects that are focused on pedagogies that encourage students to critically consider issues of public engagement and social action in relationship to the understanding of religion.
We are interested in projects among religious and theological studies faculty that spur thinking about how to develop and implement teaching strategies that connect ways of knowing that are frequently posed as disparate or separate, such as:
theory and practice
critical understanding and confessional commitments
classroom study and public life
---
Given many of the difficult conversations that are a part of our current North American teaching context, we are looking for projects that explore how a basic understanding of public life and religious commitments affect each other.
Proposals could address issues such as:
student engagement in community projects or concerns
understanding the role of religions in the public square
facilitating difficult conversations in the classroom
student resistance to learning around this topic
engaging other disciplines (i.e. political science, health sciences, economics) in an understanding of the role of religious or theological studies
Faculty members may want to explore strategies such as teaching against the grain or course development across disciplinary boundaries, departments, or schools.
---
Successful grants will demonstrate:
A readiness to learn on the part of the project director
A collaborative process with other faculty members (internal or external to the institutional or departmental setting)
Attentiveness to student learning goals
Attentiveness to the commitments, values, and contexts that are brought into the classroom by the students
Attentiveness to the long-term "value-added" of an understanding of religion or theology – who do you wish your students to be in five years?
A structure of evaluative learning where feedback from project participants (eg: students, other faculty, and community partners) is a regular and formative process for the project
Submission Period Closed
February 15, 2019

Project Director's Cohort Meeting
May 23-25, 2019
Successful grant recipients will be gathered as project directors for a meeting at the Wabash Center on May 23-25, 2019 to refine their project goals, design, and assessment components.
Grant Cohort Project Directors
Proposals need to include:
Title of proposed project
Framing question or problem
Project goals
Description of activities that will explore the central question or issue
Supportive literature
Plan of assessment, evaluation, and response
Line item budget and budget narrative
See full instructions on the Project Grants web page.
Religion Departments
might tackle questions such as:
how political, economic, and religious realities shape the ways that media communicates conflicts or engagements
how to develop student capacities for engagement in the public square
how to design multilayered conversations that attend to the variety of cultural commitments that are brought to conversations of current events
Faculty members might begin inter-disciplinary conversations with colleagues about the study of religion as it relates to public life or an informed citizenry, or they might develop creative ways to consider the topic within the overall curriculum.
Theological Schools
might tackle questions such as:
how to prepare students for ministry in social worlds enmeshed in conflicted and conflicting realities
how to engage productive conversations within congregations that are insular in their nature
how to address public citizenry in emergent forms of ministry
how to prepare students to become civically active in a radically pluralistic and multi-religious world
how to teach a multi-religious, multi-ethnic student body to honor the other and the self
Final Reports
Final reports will include a full financial accounting of funds spent (from institutional business office) and a Narrative Report on what the project accomplished and what was learned about pedagogies for social justice and civic engagement.
Questions? Please Contact:
Dr. Paul O. Myhre
Associate Director, Wabash Center
myhrep@wabash.edu
800-655-7117
Participants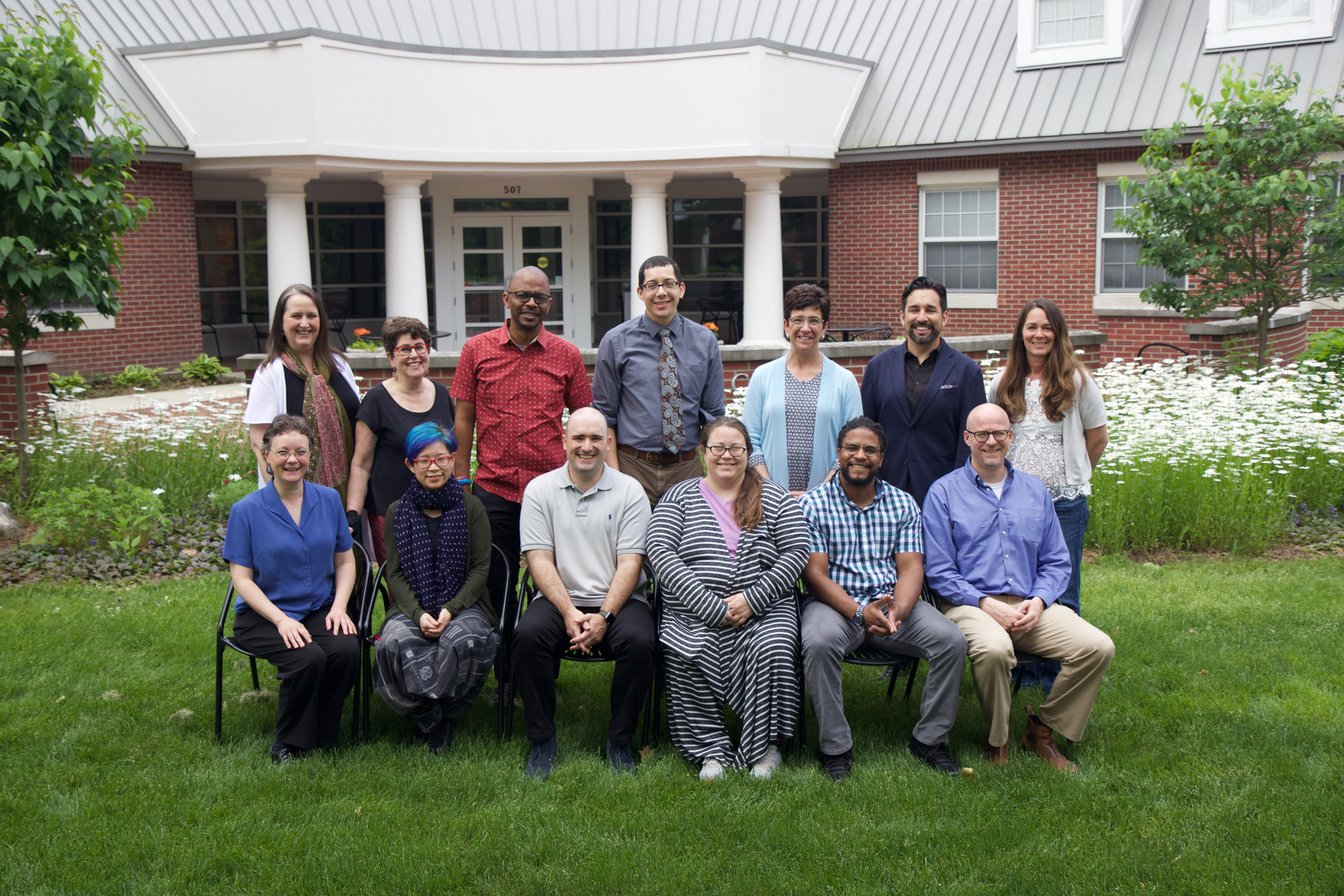 Front Row: Leah Schade (Lexington Theological Seminary), Emily S. Wu (Dominican University of California), Tyler Atkinson (Bethany College), Amy McFarland (Grand Valley State University), Ben Sanders (Eden Theological Seminary), Ben Brazil (Earlham School of Religion).
Second Row: Sarah J. King (Grand Valley State University), Sarah Tanzer (McCormick Theological Seminary), Steed Vernyl Davidson (McCormick Theological Seminary), George Faithful (Dominican University of California), *Sarah Drummond (Andover Newton at Yale Divinity School – Leadership), Christopher Tirres (DePaul University), Michelle Clifton-Soderstrom (North Park Theological Seminary).
Not pictured: Melanie Johnson-DeBaufre (Drew University Theological Seminary.
*leadership/staff position.