Doctoral Student Seminar – Boston
Hilton Boston Downtown/Faneuil Hall
89 Broad St, Boston, MA 02110
Friday, March 2 –  Saturday, March 3, 2018
Friday night accommodations and all meals included.
No transportation support is available.
The Wabash Center conducts Teaching Seminars for Doctoral Students in U.S. cities with significant numbers of doctoral programs in theological and religious studies. These seminars feature conversations about teaching facilitated by two Wabash Consultants.
Goals:
To contribute to the formation of future teachers by guiding doctoral students in conversations about teaching, both in general and in specifics including:
Critically reflective teaching
Design of learning experiences
Teaching contexts
Issues of diversity in the classroom
The seminars also provide an opportunity to acquaint doctoral students with the Wabash Center and its resources so they can take advantage of the Wabash Center's fuller programming when they have teaching appointments. In addition, doctoral students will discover ways to build networks of support and conversation across institutions.
Seminar Leadership:
Eric D. Barreto, Princeton Theological Seminary
Patricia O'Connell Killen, Gonzaga University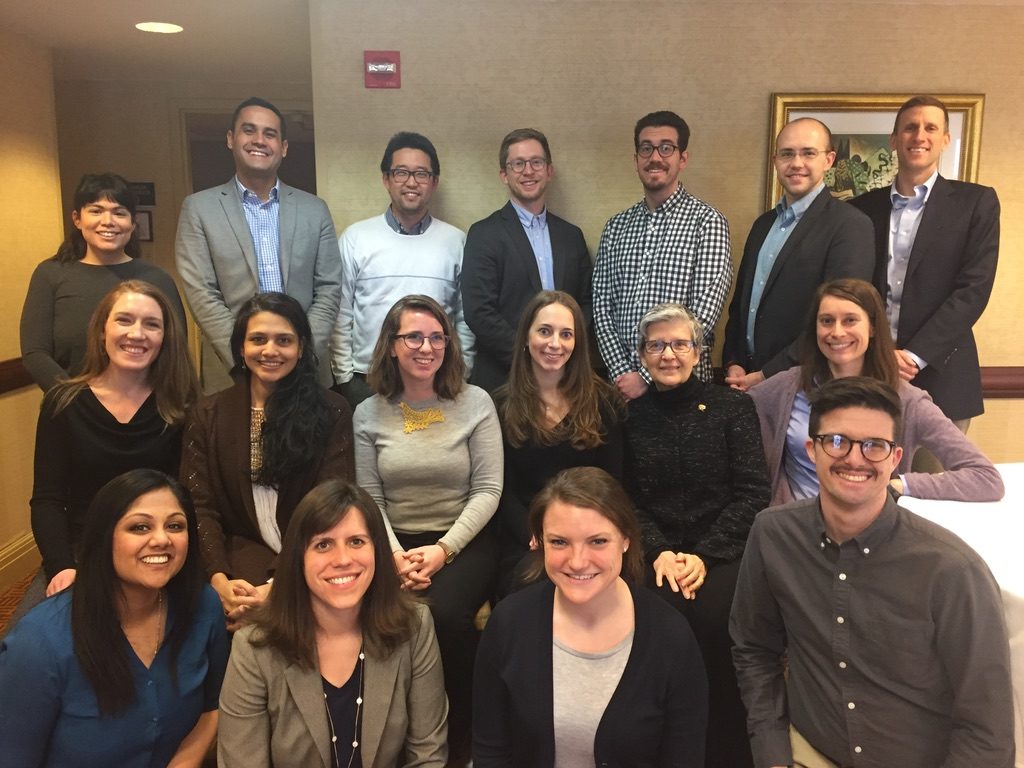 Front Row:  Jaisy Joseph (Boston College), Sarah Bixler (Princeton Theological Seminary), Mary Holman  (Fordham University), Nick Elder (Marquette University)
Second Row: Laura Carlson (Yale University), Lynna Dhanani (Yale University), Sarah Porter (Harvard University), Kira Ganga Kieffer (Boston University), *Patricia Killen (Gonzaga University), Emily Dubie (Duke University).
Back Row: Monica Rey (Boston University), Eric Barreto (Princeton Theological Seminary), Sang-Il Kim (Boston University School of Theology), Nicholas Andersen (Brown University), Joe Kimmel (Harvard University), Brad Boswell (Duke University), Jonathan Kiel (Southern Baptist Theological School).
Not Pictured: *Mary Stimming (Wabash Center).
*leadership/staff position.
Application deadline was October 16, 2017
Application consists of an online contact information form and a short response (750 words total, please) to these prompts about you teaching experience and aspirations:
Do you have any teaching experience? If so, please describe (e.g., TA, own course, etc.).
What are the 1 or 2 most important things you have you learned about teaching in your doctoral program? In what context and how did this learning occur (e.g., online/face-to-face, workshop, graduate course, TA, adjunct teacher of record, etc.)?
What excites/worries you as you contemplate beginning a teaching career?