Wabash Center Work with Doctoral Progams
Helping graduate programs prepare doctoral students for careers as teachers.
A three-year program of grants, teaching seminars, and gatherings of doctoral faculty.
Background
Doctoral education has traditionally focused on developing research and writing skills, and teaching has been considered an inevitable by-product of effective scholarship. Thus, most graduates learned how to teach when they began their first job.
Yet many graduates will find academic appointments where good teaching and student learning are central to the institutional mission. Recognizing this, and pressured by the tighter job market, doctoral programs are increasingly seeking ways to form their students for teaching as part of their preparation for a successful academic career.
The Wabash Center encouraged and supported these efforts through the Graduate Program Teaching Initiative (2011-2016) – providing funds and consultants to gather recent graduates to give feedback on the doctoral program's teaching preparation efforts.
Our Preparing Future Faculty initiative builds on this earlier program.
Two Primary Foci
Eligibility: Ph.D or Th.D programs in religious or theological studies in the U.S. and Canada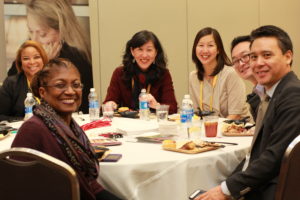 Questions or More Information:
Mary T. Stimming, PhD
Associate Director for Special Programs
stimminm@wabash.edu
800-655-7117