2014-15 Colloquy on
Writing the Scholarship of Teaching in Theology and Religion
Dates
June 9-14, 2014 – First Summer Session at Wabash College
November 21, 2014 – AAR & SBL Pre-Conference, San Diego
April 9-12, 2015 – Mustang Island, TX
Leadership Team
Eugene V. Gallagher, Connecticut College
-Associate Editor, Teaching Theology & Religion
Thomas Pearson, Wabash Center
-Editor, Teaching Theology & Religion
Martha E. Stortz, Augsburg College
-Associate Editor, Teaching Theology & Religion

Description
The purpose of this colloquy is to cultivate the scholarship of teaching among religion and theology faculty in colleges, universities, seminaries and divinity schools. The colloquy will gather a small group of experienced and critically reflective teachers for an extended process of writing and conversation about the scholarship of teaching and learning. The colloquy involves a week in the summer of 2014, a pre-conference session at the 2014 AAR & SBL Annual meetings, and a three-day weekend in April 2015.
Participants will work on their own article length manuscript through the course of the colloquy, engage in peer review, and converse about writing this genre. Participants will complete assignments before each session, and produce a completed manuscript by the April 2015 meeting.
Colloquy Goals:
To support through a collaborative process each participant's completion of a manuscript in the scholarship of teaching in theology and religion
To create and sustain a cooperative cohort of authors in the scholarship of teaching and learning
To support each other through each individual's process to conceive, draft, refine, and complete a publishable manuscript
To continue the conversation about marks of quality in the scholarship of teaching and learning in theology and religion and to help Teaching Theology & Religion refine its standards of quality and communicate them clearly to potential authors
To strengthen the network of scholars involved with Teaching Theology & Religion
---
Stipend
Participants will receive a stipend of $2,000 for full participation in three sessions, plus local expenses and travel to all sessions. We are prevented from paying stipends to participants who are teaching in the U.S. under an H-1B visa.
Read more about stipend payments
Read our Policy on Participation
Participants will receive an additional stipend of $500 for submission of an article manuscript on teaching to either Teaching Theology & Religion, or some other appropriate academic journal, by September 1, 2015.
---
More information
Thomas Pearson
Associate Director, Wabash Center
Editor, Teaching Theology and Religion
301 West Wabash Ave.
Crawfordsville, IN 47933
800-655-7117
pearsont@wabash.edu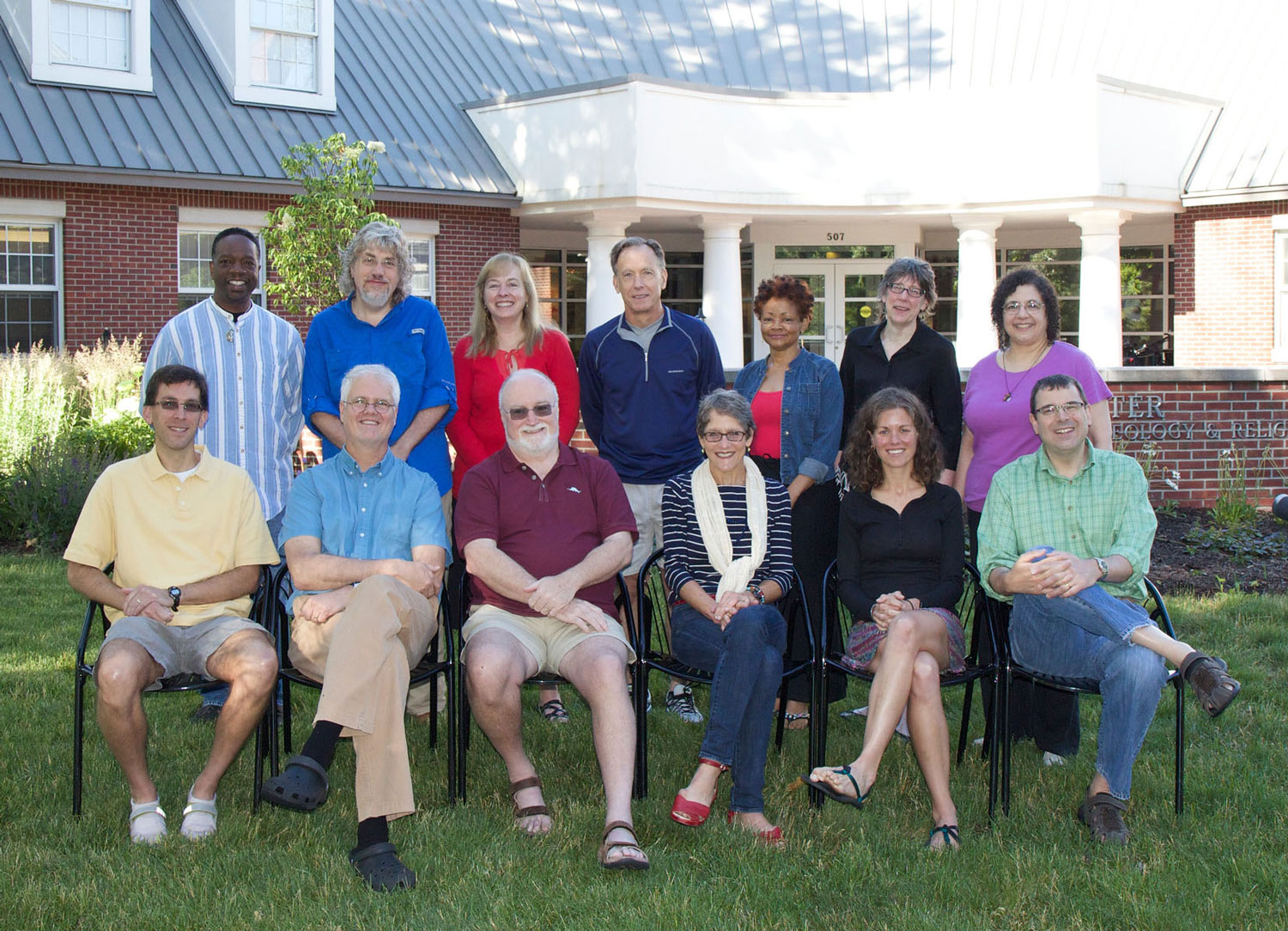 Front Row (left to right):  Shane Kirkpatrick (Anderson University), *Thomas Pearson (Wabash Center), *Eugene Gallagher (Connecticut College),* Martha Stortz (Augsburg College), Molly Bassett (Georgia State University), Christopher Evans (Boston University School of Theology). 

Second Row: Timothy Lake (Wabash College), Randall Reed (Appalachian State University), Tracy Trothen (Queen's University), Jeffrey Kenney (DePauw University), Mitzi Smith (Ashland Theological Seminary-Detroit), Kathleen Fisher (Assumption College), Carolyn Jones Medine (University of Georgia).

*leadership/staff position