2020-21 Teaching and Learning Workshop for
Early Career Theological School Faculty
Dates
First Summer Session: 
July 13-18, 2020, Online
Second Session:
January 28-February 1, 2021, Online
Third Session 
July 6-8, 2021, Wabash College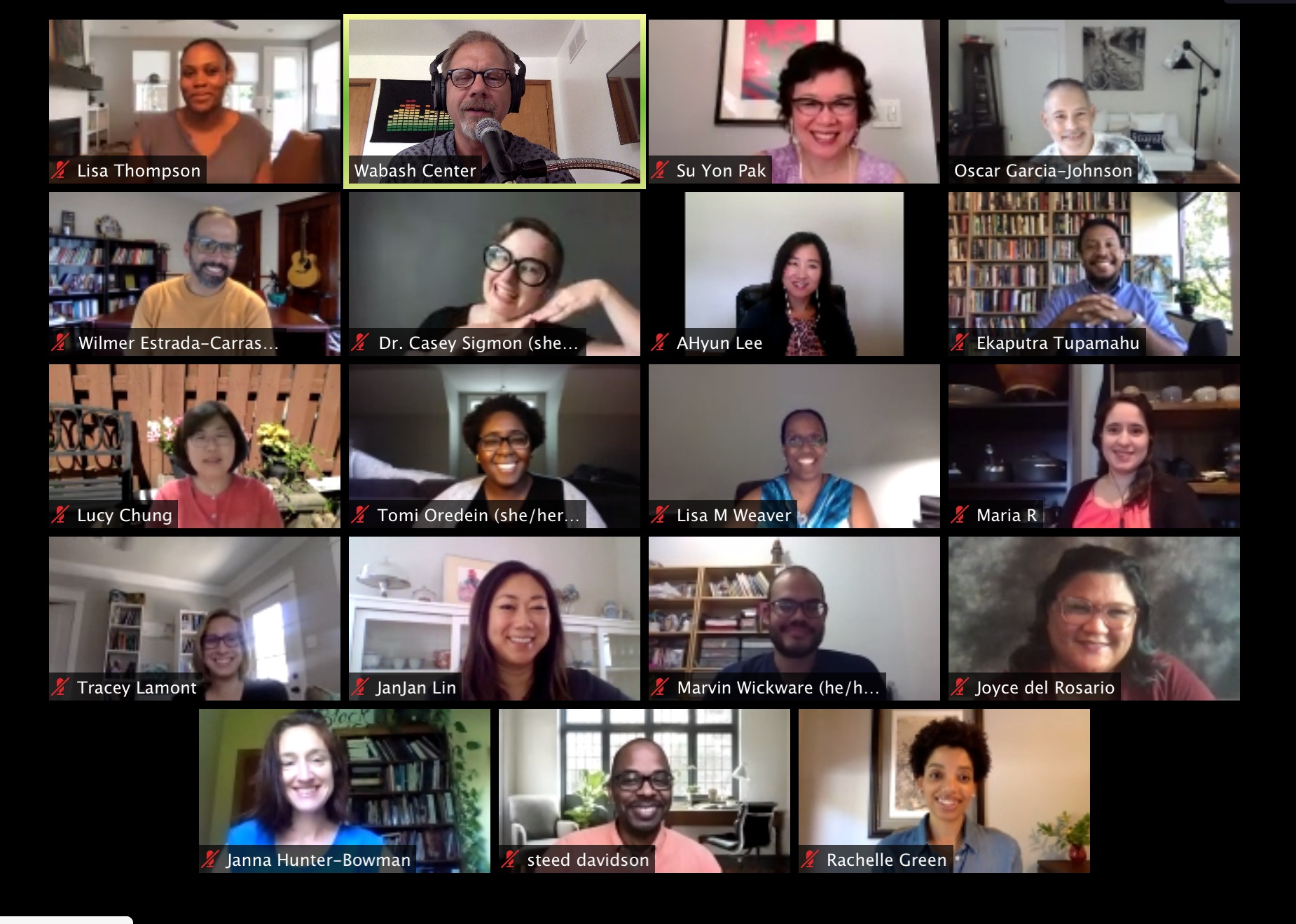 Leadership Team
Su Yon Pak, Director, Union Theological Seminary, NYC
Steed Vernyl Davidson, McCormick Theological Seminary
Oscar Garcia-Johnson, Fuller Theological Seminary
Lisa L. Thompson, Vanderbilt Divinity School
Paul Myhre, Wabash Center
Instructions for Leaders
For More Information, Please Contact:
Paul Myhre, Senior Associate Director
Wabash Center 
301 West Wabash Ave. 
Crawfordsville, IN 47933
myhrep@wabash.edu
Participants
Maria E. Barga, Pontifical College Josephinum
Jaeyeon Lucy Chung, Garrett-Evangelical Theological Seminary
Joyce del Rosario, Pacific School of Religion
Wilmer Estrada-Carrasquillo, Pentecostal Theological Seminary
Rachelle R. Green, Fordham University
Janna L. Hunter-Bowman, Anabaptist Mennonite Biblical Seminary
Tracey Lamont, Loyola University, New Orleans
AHyun Lee, Indiana Wesleyan University
Yii-Jan Lin, Yale Divinity School
Oluwatomisin Oredein, Brite Divinity School
Casey T. Sigmon, Saint Paul School of Theology
Ekaputra Tupamahu, Portland Seminary
Lisa M. Weaver, Columbia Theological Seminary
Marvin E. Wickware Jr., Lutheran School of Theology at Chicago
Description
The world of theological education is changing, and early career faculty have agency to craft its new futures. This workshop will imagine and cultivate creative and nimble pedagogies for embodied teaching and learning for the twenty-first century. The workshop will be an art studio for play with and through a variety of educational mediums to explore ecologies of knowledge in a holistic teaching life. Our time together will take seriously socially engaged theological education for the public sphere.
The workshop will gather 14 faculty members for a week in two successive summers at Wabash College, and a weekend winter gathering in Corpus Christi, Texas. There will be a balance of plenary sessions, small group discussions, workshop sessions, structured and unstructured social time, and time for play, relaxation, exercise, meditation, discovery, laughter, and lots of good food and drink.
Workshop Goals
Explore and develop holistic dimensions of the teaching life
Image and discern contours of agency in teaching contexts
Conceive and cultivate transformative pedagogies and creative futures for theological education
Critically reflect on how to craft curriculum and practices for engaged global citizens
Develop a just use of embodiment for self-reflexive teaching practices
Eligibility
2-5 years of teaching in a tenure-track, contingency, or continuing position
Teaching in an accredited seminary or theological school in the United States, Puerto Rico, or Canada
Doctoral degree completed by January 1, 2020
Tenure decision (if applicable) no earlier than Spring 2021
Institutional support to participate fully in sessions and to complete teaching fellowship project in following year
Application Materials
Please complete and attach the following documents to the online application:
1. Application contact information form
2. In a cover letter, describe your teaching context and explore how at least one of the workshop goals will help you in your teaching practice (consider your institution, your students, and your community). (250 words)
3. Describe your desires for the future of theological education, how you discern your agency in it, and what you need to conceive it. (250 words)
4. Academic CV (4-page limit)
5. A letter of institutional support for your full participation in this workshop from your department chair, academic dean, or someone in a direct supervisory position who can discuss your teaching. Please have this recommendation uploaded directly to your application according to the online application instructions.
Honorarium and Fellowship
Participants will receive an honorarium of $3,500 for full participation in the three workshop sessions, plus local expenses and travel. In addition, participants are eligible to apply for a $5,000 workshop fellowship for work on a teaching project during the following academic year (2021-22).  The fellowship application deadline is Wednesday, August 18th, 2021.