2021-22 Teaching and Learning Workshop for
Early Career Theological School Faculty (digital format)
Dates of Sessions
July 8, 2021                  12:00 to 5:00 p.m. EST
August 19, 2021            1:00 to 4:00 p.m. EST
September 9, 2021       1:00 to 4:00 p.m. EST
October 21, 2021          1:00 to 4:00 p.m. EST
November 11, 2021      1:00 to 4:00 p.m. EST
December 16, 2021      1:00 to 4:00 p.m. EST
January 20, 2022         12:00 to 5:00 p.m. EST
February 17, 2022       1:00 to 4:00 p.m. EST
March 17, 2022            1:00 to 4:00 p.m. EST
April 28, 2022              1:00 to 4:00 p.m. EST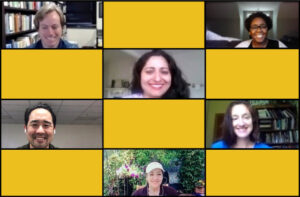 Leadership Team
Amy Oden Ph.D., Independent Scholar
Ralph Basui Watkins, MFA, D.Min, Ph.D., Columbia Theological Seminary

Participants
Frederick David Carr, Northeastern Seminary at Roberts Wesleyan College
Sarah F. Farmer, Indiana Wesleyan University
Rebecca Seungyoun Jeong, Portland Seminary
Yohana Agra Junker, Claremont School of Theology
Jina Kang, McCormick Theological Seminary
Justin Nickel, Lutheran Theological Southern Seminary
Allison L. Norton, Hartford Seminary
Sue K. Park, Columbia Theological Seminary
Susan Bigelow Reynolds, Candler School of Theology – Emory University
Kimberly D. Russaw, Christian Theological Seminary
James Elisha Taneti, Union Presbyterian Seminary
Catherine D. Williams, Lancaster Theological Seminary
Colin H. Yuckman, Duke Divinity School
Description
This cohort experience invites teachers who are in their first years of teaching to join a community of peers and leaders who value the cultivation of capacities for empathic care, generative collegiality, and imaginative reflection about teaching as socially responsive craft, vocation and employment. Our conversation will recognize the liminality brought on by the COVID 19 pandemic, the need for Black Lives Matter protests, and the social uncertainty in the wake of the 2020 Presidential election. 
We will grapple with such questions as: Who is the self who teaches? What is required to accurately read institutional contexts? What kinds of self-care are needed to be a generative and passionate teacher? In what ways might early career colleagues contribute to the health of the institution? Considering the seasons of a teaching career, what are the metrics of good teaching in the early years? What pedagogies might strengthen my teaching? What are the unforeseeable challenges for which a peer conversation might be beneficial?
This cohort builds itself through the exploration of:
the significance of embodiment in and beyond the classroom
institutional culture and politics
emerging pedagogies and pedagogical encounters
the spirituality, imagination and creativity of teaching
the agency and commitments of the teacher who knows teaching as liberative
the multiple epistemologies which might need to inform 21st century teaching
the impacts of larger sociopolitical and economic dynamics on whom, what, how, and where we teach
The workshop will gather 16 faculty peers, 2 co-leaders, and a staff person to establish an online cohort for enhanced teaching and deepening of the teaching life.
Workshop Goals
To create a generative space in which participants can reflect on their vocation, craft and employment as teachers
To engage participants as they reflect on a variety of practices, methods, wisdoms of being a teacher of adult learners
To encourage participants to own and develop their sense of embodied agency in their teaching, institutional life, and career path
To develop peer relationships with colleagues who also pursue improved teaching
To consider self-care as necessary for the health of family, community, career and self
To envision teaching as a form of sociopolitical activism within specific cultural framework
Participant Eligibility
2-5 years in a tenure-track, contingency, or continued contract
Job description and contract that is wholly or primarily the responsibility of teaching
Teaching in an accredited seminary or theological school in the United States, Puerto Rico, or Canada
Doctoral degree awarded by January 2021
Tenure decision (if applicable) no earlier than June 2022
Institutional support to participate fully in workshop sessions and to complete teaching fellowship project in the 2022-23 academic year
Application Materials 
Please complete and attach the following documents to the online application:
1. Application contact information form
2. An introductory letter that describes the challenges and opportunities at your institution as regards to your teaching, scholarship, and/or service. (200 words)
3. Application Essay: When you critically and imaginatively reflect upon your teaching, to what metaphor or simile do you aspire and why? How does this metaphor or simile present itself in your classroom teaching as well as in relationship with colleagues? What are the joys and challenges of embodying this metaphor or simile as you teach adult learners? (600 to 750 words)
4. Academic CV (4-page limit)
5. A letter of institutional support for your full participation in this workshop from your Department Chair, Academic Dean, Rector, Provost, Vice President, or President. Please have this recommendation uploaded directly to your application according to the online application instructions.
Honorarium and Fellowship

Participants will receive an honorarium of $3,500 for full participation in the workshop. In addition, participants are eligible to apply for a $2,500 workshop fellowship for work on a teaching project during the following academic year (2022-23).