Travel and Accommodations for Gatherings at the Wabash Center
This information is for participants already accepted into the workshop.
The Wabash Center will reimburse round trip travel expenses from your home or institution to the Wabash Center session (including ground transportation and airport parking with original receipts). We ask that you travel as inexpensively as possible. When driving to a Wabash Center session, the reimbursement will be according to the IRS mileage rate. See additional details and guidelines on the travel reimbursement form.
Make Flight Arrangements
Arrive no later than 3 pm (Indianapolis airport).
Depart no earlier than 3 pm.
We encourage you to use our travel agent. (Your ticket will be billed directly to us and we will automatically receive a copy of your itinerary.)
Contact:
The Travel Authority
800-837-6568
Thommi Weliever thommi.weliever@altour.com
Please notify us if you will be arriving by car
Contact Hannah Johnson (johnsonh@wabash.edu)
Plan to be on campus by 4:00 pm.
Trippet Hall (Wabash Center lodging)
 410 West Wabash Ave,
Crawfordsville, IN 47933
Airport Shuttle
About a week prior to your travel you will receive an email from Hannah Johnson (johnsonh@wabash.edu) with airport shuttle information. This email includes the cell phone number of your driver, where to meet, and fellow participants with arrival times. Please print off these instructions and carry them with you.
Food
We need to know your dietary needs, as our food is catered especially for our workshops in a private dining room. Please notify Hannah Johnson (johnsonh@wabash.edu) if you have specific dietary needs or preferences.
Housing and Accommodations
When on the Wabash College campus, participants stay in the spacious single-occupancy rooms in the college's guest housing, Trippet Hall.
Attire is casual. Participants may also want to use the Wabash College athletic facilities.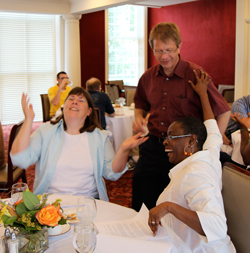 Questions Concerns or More Information:
Hannah Johnson (johnsonh@wabash.edu)
800-655-7117
Wabash Center Lodging:
410 West Wabash Ave
Crawfordsville, IN 47933