Select an item by clicking its checkbox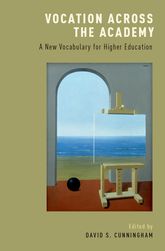 Vocation Across the Academy - A New Vocabulary for Higher Education
Additional Info:
Click Here for Book Review
The effort made by Cunningham and his co-contributors will provoke two questions for theological educators: What is it about the concept of vocation that gives it such staying power, and why has it been relegated to the margins of the very institutions that gave birth to the vocabulary? - Frederick W. Schmidt, Garrett-Evangelical Theological Seminary
Although the language of vocation was born in a religious context, the contributors in this volume demonstrate that it has now taken root within the broad framework of higher education and has become intertwined with a wide range of concerns. This volume makes a compelling case for vocational reflection and discernment in undergraduate education today, arguing that it will encourage faculty and students alike to venture out of their narrow disciplinary specializations and to reflect on larger questions of meaning and purpose.
In conversation with a growing range of scholarly resources, these essays advance the cause of vocational reflection and discernment well beyond its occasional mention in general education courses and career placement offices. The book's thirteen contributors all work in higher education, but they do so as biologists and musicians, sociologists and engineers, doctors and lawyers, college presidents and deans, and scholars of history, literature, and business administration. Together, they demonstrate that vocation has an important role to play across the entire range of traditional academic disciplines and applied fields. Regardless of major, all undergraduates need to consider their current and future responsibilities, determine the stories they will live by, and discover resources for addressing the tensions that will inevitably arise among their multiple callings.
Vocation across the Academy will help to reframe current debates about the purpose of higher education. It underscores the important role that colleges and universities can play in encouraging students to reflect more deeply on life's most persistent questions and to consider how they might best contribute to the common good. (From the Publisher)
Table Of Content:
Introduction Language that Works (David S. Cunningham)
Part One Calling without Borders: Vocational Themes across the Academy
Ch 1. "Vocation Is Responsibility" (Margaret E. Mohrmann)
Ch 2. The Conflicts in Our Callings (Jason A. Mahn)
Ch 3. Called to Tell Our Stories (Shirley Hershey Showalter)
Part Two Calling in Context: Fields of Study as Resources for Vocational Reflection
Ch 4. Calling over the Life Course (Catherine Fobes)
Ch 5. To Whom Do I Sing, and Why? (David Fuentes)
Ch 6. Coordination, Community, Covenant (Michael E. Cafferky)
Ch 7. The Art and Science of Vocation (Celia Deane-Drummond)
Part Three Called into the Future: Professional Fields and Preparation for Life
Ch 8. Laboring in the Garden (Christine M. Fletcher)
Ch 9. Unplugging the GPS (Jeff R. Brown)
Ch 10. Of Doing and Being (Jerome M. Organ)
Part Four Vocation at Full Stretch: Overcoming Institutional Obstacles to the Language of Call
Ch 11. Colleges Have Callings, Too (David S. Cunningham)
Ch 12. Religion, Reluctance, and Conversations about Vocation (Mark U. Edwards Jr.)
Ch 13. Good Teaching (Mark R. Schwehn)
Epilogue Vocabularies of Vocation (David S. Cunningham)