2016-17 Teaching Workshop for Early Career Religion Faculty at Colleges and Universities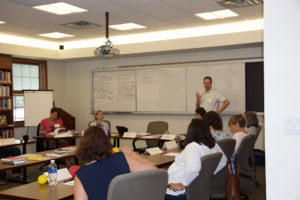 This workshop will gather 14 faculty members in their first years of teaching for a week in two successive summers and a weekend winter retreat in a warm location. Its purpose is to create a community of committed teachers to discuss a variety of teaching and learning topics.
The workshop will seek to imagine pedagogical horizons that respond both to early career scholars' need for professional pedagogical formation and the development of a teaching vocation that constructively engages and transforms the larger world. Taking account of pragmatic, everyday challenges untenured or early career scholars face in their institutions, the workshop aspires to open safe space for risk-taking, creative thinking, and experimentation with diverse material strategies and practices for teaching.

The workshop will balance plenary sessions with small group discussions, as well as individual and collaborative work with teaching resources. The leadership team seeks to foster community and solidarity through structured and unstructured social time, good food and drink, and opportunities for relaxation and play.
Goals
To foster mutually supportive, collaborative conversations about questions of teaching and learning
To provide opportunity and resources for participants to articulate their teaching praxis, while reflecting critically and exploring new approaches
To develop reflective, intentional, and sustainable practices for integrating life and work as well as teaching and research
To re-imagine the public purpose of higher education in contemporary North America and participants' institutional context
Honorarium
Participants will receive an honorarium of $3400 for full participation in the three workshop sessions, plus local expenses and travel. In addition, participants are eligible to apply for a $5000 workshop fellowship. These awards are for projects that emerge from the conversation and ideas of the workshop, in consultation with the leadership team, and are conducted during the year following the workshop. 

Participants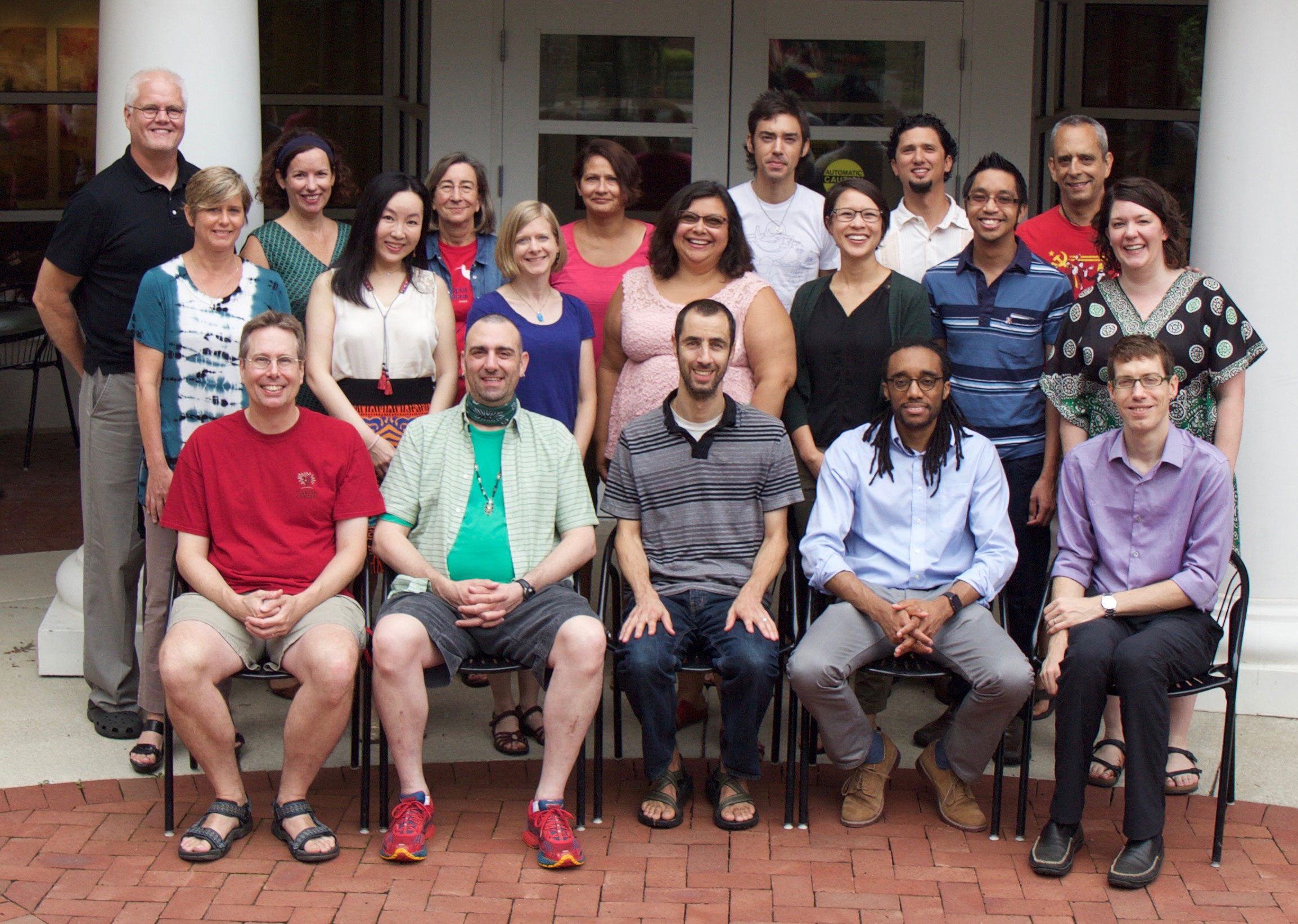 Front Row:  *Reid Locklin (University of Toronto), Matthew Haar Farris (California State University – Fresno), Elliott Bazzano (LeMoyne College), Marcus Harvey (University of North Carolina – Asheville), Kevin Minister (Shenandoah University). 
Second Row: Amy Langenberg (Eckerd College), Jea Oh (West Chester University), Rebekah Eklund (Loyola University Maryland), Neomi DeAnda (University of Dayton), Jessica Wong (Azusa Pacific University and Graduate School of Theology), Jeremy Posadas (Austin College), Lauren Osborne (Whitman College). 
Third Row: *Tom Pearson (Wabash Center), Holly Hillgardner (Bethany College), *Tina Pippin (Agnes Scott College), *Sufia Uddin (Connecticut College), Jack Downey (La Salle University), Jeremy Cruz (St. John's University [Queens], *Jorge Aquino (University of San Francisco).

*Leadership/staff
Workshop Information
Dates
First Session:


July 18-23, 2016, Wabash College

Second Session:
J

anuary 5-8, 2017, Corpus Christi, Texas

Third Session:


June 19-24, 2017, Wabash College
Leadership Team
Reid B. Locklin, University of Toronto, Director
Jorge A. Aquino, University of San Francisco
Tina Pippin, Agnes Scott College
Sufia Uddin, Connecticut College
Thomas Pearson, Wabash Center
Important Information