2016-17 Teaching and Learning Colloquy for Mid-Career Religion Faculty at Colleges and Universities
"Pedagogies of Community Engagement"
Experiential education includes a wide range of pedagogies that engage students in the use of material culture, site visits, active experimentation, creative performance, and service.  This colloquy will focus on one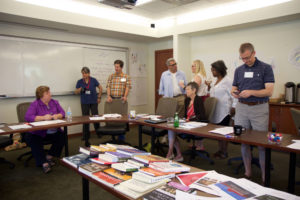 type of experiential education, pedagogies of community engagement.  These pedagogies are motivated by ethical intent, give attention to questions of embodiment and social location, foster empathetic imagination, and are characterized by collaborative partnerships.

Why would mid-career faculty focus on pedagogies of community engagement?
To align their passions and commitments with their teaching practice and scholarship
To develop learning outcomes that demonstrate civic knowledge and engagement, intercultural competency, and ethical reasoning and action, all through active involvement with diverse communities and real-world challenges (identified as an essential learning outcome of the "Liberal Education, America's Promise" initiative of the American Association of Colleges and Universities)
To engage the work of disciplines, institutions, and communities that effectively address difficult social issues in an increasingly pluralistic and globalized world
To consider whether existing models of pedagogies of community engagement are sufficient to transform learners and teachers, institutions, and communities over time
This colloquy will explore how, why, and if Religious Studies and Theology offer unique questions, methodologies, and tools for collaborative learning through community engagement. Do comparativist and interdisciplinary approaches expand our capacities to critically understand and engage the multiplicity of experiences in diverse communities? Can the content of our field offer constructive sources for thinking about ethical intent including embodiment, empathy, and action in partnership with local communities?  Does this thinking challenge us to reconsider how we engage diverse opinions and values inherent in pluralistic democracies?

We invite applications from mid-career teachers with a range of experience with these pedagogies: from those who are new to these pedagogies and are ready to seriously explore their use to those who want to deepen their own experience and/or guide conversations about these pedagogies with departments, institutions, or community partners. 
Goals
To create a collaborative learning community in which participants will share and learn from each other's expertise and experience
To explore emerging models and trends of community-engaged pedagogies
To develop teaching practices that:

• complexify students' thinking about civic and community-based issues;

• interrogate social locations of students and teachers;

• invite students to cultivate empathic perspectives by creatively/imaginatively inhabiting worlds beyond their own;

 To reflect on one's personal and professional priorities at mid-career by:

• considering the alignment between teachers' passions and commitments and their teaching practice;

• increasing participants' capacity to be effective agents for change;

• developing projects that will translate and disseminate the insights of the colloquy into other contexts

• integrate class content with community-based action in partnership with local communities
Honorarium
Participants will receive an honorarium of $3,400 for full participation in the three workshop sessions, plus local expenses and travel. Each participant is eligible to apply for a $1,000 grant for a colloquy-linked project. 

Participants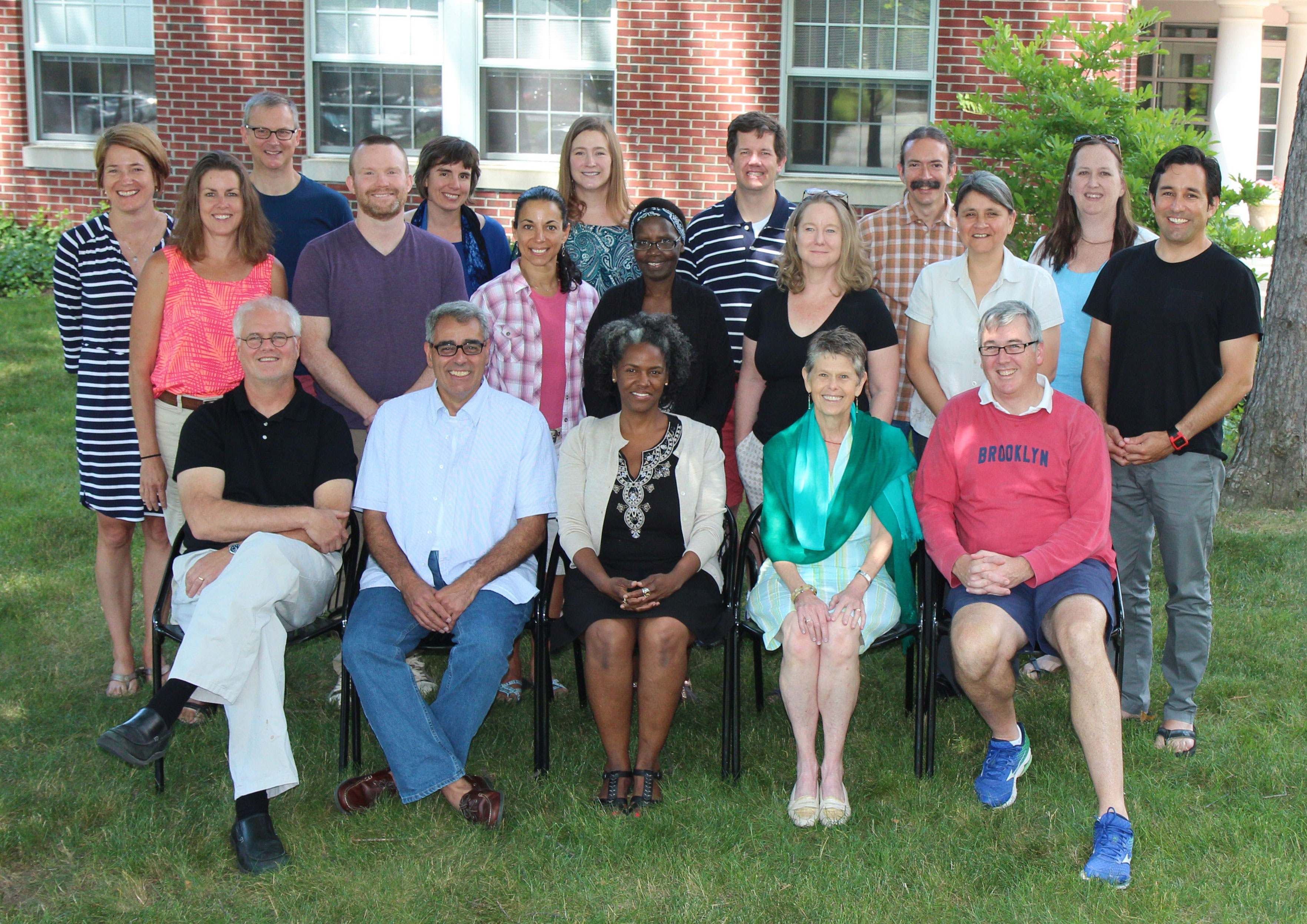 Front Row: *Tom Pearson (Wabash Center), * Joseph Favazza (Stonehill College), *Joy Bostic (Case Western Reserve University), *Bobbi Patterson (Emory University), Andrew Irvine (Maryville College). 
Second Row: Lori Hale (Augsburg College), Robert Williamson (Hendrix College), Teresa Delgado (Iona College), Joyce Nki (Bethune-Cookman College), Julie Miller (University of the Incarnate Word), Ahida Calderon Pilarski (Saint Anselm College), Christopher Tirres (DePaul University). 
Third Row: Maureen O'Connell (LaSalle University), Todd Hibbard (University of Detroit Mercy), Davina Lopez (Eckerd College), Sara Pattterson (Hanover College), William McDonald (Tennessee Wesleyan College), David Aftandilian (Texas Christian University), Sarah King (Grand Valley State University).
leadership/staff
Workshop Information
Dates
First Session:


June 27 to July 2, 2016, Wabash College

Second Session:
J

anuary 26-29, 2017, Corpus Christi, Texas

Third Session:


June 5-10, 2017, Wabash College
Leadership Team
Joseph Favazza

, Stonehill College, Director

Joy R. Bostic

, Case Western Reserve University

Bobbi Patterson

, Emory University

Thomas Pearson

, Wabash Center 
Important Information