Workshop for Early Career Religion Faculty at Colleges and Universities
This workshop will gather 14 early career faculty from diverse scholarly specializations and institutional contexts for a week in each of two successive summers and a weekend winter retreat.  As a community of committed and skilled teachers, we will explore together critical issues in teaching and learning such as:
Designing strategies for effective teaching, assignments, and assessment within one's institutional context.
Navigating the intersections of identities—e.g., race, class, gender, sexuality, ability, age, religious and political affiliations—in the classroom
Managing the competing demands of teaching, scholarship, service, and personal life
Mapping career growth such as tenure and alternate academic tracks
The workshop balances plenary sessions with small group discussions, individual and collaborative work, and access to the Wabash Center teaching resources, as well as structured and unstructured social time.
Goals
To create an environment for collaboration and conversation around teaching and learning 
To cultivate reflective practices as teachers and learners
To examine the politics and pressures of teaching and learning in higher education
To develop intentional and sustainable practices in professional and personal life
Honorarium and Fellowship
Participants will receive an honorarium of $3400 for full participation in the three workshop sessions, plus local expenses and travel. In addition, participants are eligible to apply for a $5000 workshop fellowship for work on a teaching project during the following academic year (2019-20).

Participants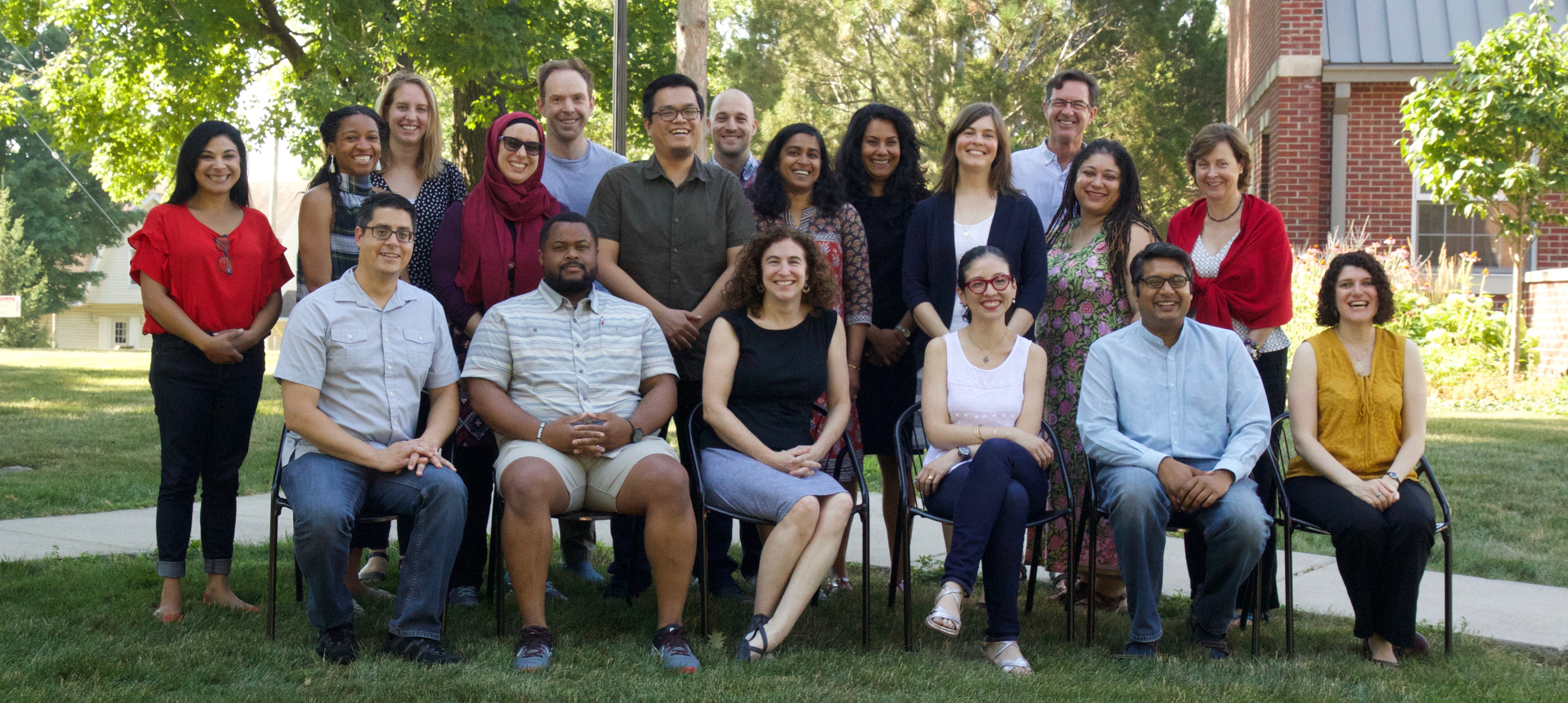 Front Row: Gerardo Rodríguez (St. Norbert College), Darrius Hills (Morgan State University), *Joanne Robinson (University of North Carolina – Charlotte), Manuela Ceballos (University of Tennessee), Abhishek Ghosh (Grand Valley State University), *Jacqueline M. Hidalgo (Williams College).
Second Row: Melissa Pagán (Mount St. Mary's), Jennifer T. Kaalund (Iona College), Rose Aslan (California Lutheran University), *Martin Nguyen (Fairfield University), Dheepa Sundaram (College of Wooster), Martie Smith Roberts (Denison University), Sonya Maria Johnson (Beloit College), *Mary Stimming (Wabash Center).
Back Row: Courtney Dorroll (Wofford College), Max Mueller (University of Nebraska – Lincoln), Patton Burchett (College of William and Mary), Merin Shobhana Xavier (Queen's University), *Richard S. Ascough (Queen's University). *leadership/staff position.
*leadership staff position 
Dates
First session:
July 16-21, 2018, Wabash College
Second session:
January 10-13, 2019. Corpus Christi, Texas
Third session:
June 24-29, 2019, Wabash College
Leadership Team
Joanne Maguire Robinson, Director, University of North Carolina-Charlotte
Martin Nguyen, Fairfield University 
Richard S. Ascough, Queen's University
Jacqueline M. Hidalgo, Williams College
Mary T. Stimming, Associate Director, Wabash Center
Important Information
For More Information, Please Contact:
Mary Stimming, Associate Director
Wabash Center
301 West Wabash Ave.
Crawfordsville, IN 47933
800-655-7117