Workshop for Theological School Faculty Teaching Online 
In this workshop, theological school faculty will design, build, implement, assess, and redesign an online or hybrid course to be taught in the 2018-19 academic year. The workshop will be offered as a hybrid experience, blending elements of individual work, three face-to-face sessions, and collaborative work as part of a virtual learning community. During the first summer, participants will engage in an intensive program that includes online content (developed in collaboration with the University of Wisconsin – Madison), bookended by two of the face-to-face gatherings with peers on the Wabash College campus. During the 2018-19 academic year, participants will teach and assess the course they designed. In the final face-to-face session during the summer of 2019, each participant will review their assessment information, share best practices, wrestle with deeper issues of pedagogy and sociology of learning, and complete a plan for revising their course.
Goals
Participants will be able to:
Design, construct, implement, assess, and revise a well-conceived and pedagogically sound course for delivery in an online or hybrid format
Assess the unique opportunities and challenges for effective teaching and learning posed by traditional, hybrid, and online teaching environments
Apply sound principles of pedagogy and the sociology of learning communities to the design of an online or hybrid course
Make informed decisions about how to shape effective pedagogical and sociological strategies for the venue in which they will be used, in order to achieve the desired learning outcomes
Design and facilitate learning activities and processes in order to achieve effective, relational, and formational learning outcomes
Contribute in positive ways to institutional exploration of online and hybrid learning environments
Honorarium
Participants will receive an honorarium of $3400 for full participation in the three f2f and online course sessions. In addition, all participants will be reimbursed for local expenses and travel.
Participants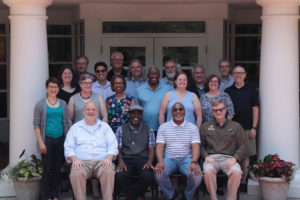 Front Row: *Steve Delamarter (Portland Seminary), Valentin Ekiaka Nzai (Mexican American Catholic College), Jeffery Tribble (Columbia Theological Seminary), Tim Westbrook (Harding University).
Second Row: Rachel Miller Jacobs (Anabaptist Mennonite Biblical Seminary), *Stacy Williams-Duncan (Virginia Theological Seminary), Catherine Williams (Lancaster Theological Seminary), Carmichael Crutchfield (Memphis Theological Seminary), *Bridget Powell (University of Wisconsin – Madison), S. Tamar Kamionkowski (Reconstructionist Rabbinical College), Kent Kersey (Corban University).
Third Row: Kristel Clayville (Lexington Theological Seminary), Elias Ortega-Aponte (Drew Theological School), Lee Beach (McMaster Divinity College), Mariano Avila (Calvin Theological Seminary), Max Lee (North Park Theological Seminary), G. Alan Overstreet (Anderson University).
Back Row: Zachary Tackett (Southeastern University), *Tom Pearson (Wabash Center).
*leadership/staff position.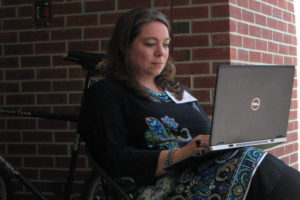 Dates
Online Start-up: May 8-21, 2018 (5-8 total hours of work)
F2f session #1:
May 29-June 1, 2018, Wabash College
Online course:
June 5-July 31, 2018 (15-20 hours/week)
F2f session #2:
August 1-4, 2018, Wabash College
F2f session #3:
May 28-31, 2019, Wabash College
Leadership Team
Steve Delamarter, Director, Portland Seminary
Stacy Williams-Duncan, Virginia Theological Seminary
Bridget Powell, University of Wisconsin-Madison
Thomas Pearson, Associate Director, Wabash Center
Important Information