2019-20 Teaching and Learning Workshop for
Early Career Religion Faculty Teaching Undergraduates
Applications due January 15, 2019
Description
This workshop will gather 14 early career faculty members from diverse scholarly specializations and institutional contexts (primarily teaching undergraduates), for a week in each of two successive summers and a winter weekend retreat. As a collaborative learning cohort of teacher-scholars, we will explore such topics as:
• Relationship between scholarship and teaching
• Professional and personal life in institutional context
• Implications of intersectionality in the classroom
• Course design and assessment
• Issues of technology in education
• Fellowship project design
The workshop balances plenary sessions with small group discussions, individual and collaborative work, access to the Wabash Center teaching resources, as well as structured and unstructured social time.
Dates
First session:
July 8-13, 2019, Wabash College
Second session:
January 16-19, 2020, Corpus Christi, Texas
Third session:
June 15-20, 2020, Wabash College
Leadership Team
Bernadette McNary-Zak, Director
Rhodes College
Swasti Bhattacharyya
Buena Vista University
Steven Ramey
University of Alabama
David A. Sánchez
Loyola Marymount University, LA
Thomas Pearson
Wabash Center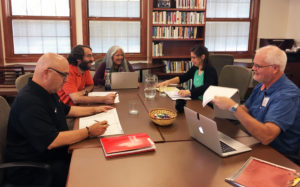 Workshop Goals
Create a collaborative learning cohort of teacher-scholars 
Develop the practice of critical reflection on teaching
Articulate the relevance of our courses inside and outside the academy
Explore strategies for thriving in institutional and personal contexts
Eligibility
2-5 years of teaching in a tenure-track, contingency, or continuing position
Teaching in an accredited college or university religion, religious studies, or theology department in the United States, Puerto Rico, or Canada
Doctoral degree completed by January 1, 2019
Tenure decision (if applicable) no earlier than Spring 2020
Institutional support to participate fully in sessions and to complete teaching fellowship project in following year.
Application Materials
1. Application contact information form
2. An introductory letter that describes the following with attention to your institutional context (500 words max):
a) Your interest in the workshop
b) The particular questions you want to engage
c) Your potential contributions to the workshop
3. Two brief essays describing:
a) A significant moment or experience for you as a learner (250 words)
b) A critical incident in your teaching and how you responded (250 words)
4. Academic CV (4-page limit)
5. A letter of institutional support for your full participation in this workshop from your department chair or academic dean. Please have this recommendation uploaded directly to your application according to the online application instructions.
Honorarium and Fellowship
Participants will receive an honorarium of $3,500 for full participation in the three workshop sessions, plus local expenses and travel. In addition, participants are eligible to apply for a $5,000 workshop fellowship for work on a teaching project during the following academic year (2020-21).

For More Information, Please Contact:
Thomas Pearson, Associate Director
Wabash Center
301 West Wabash Ave.
Crawfordsville, IN 47933
800-655-7117
pearsont@wabash.edu