2019-20 Teaching and Learning Workshop for
Early Career Religion Faculty Teaching Undergraduates
We are mourning the loss of our friend, colleague, and workshop leadership team member David Sanchez who died suddenly in early April. Read more.
We will be in touch with workshop participants regarding our plans for moving forward with the workshop.
Participants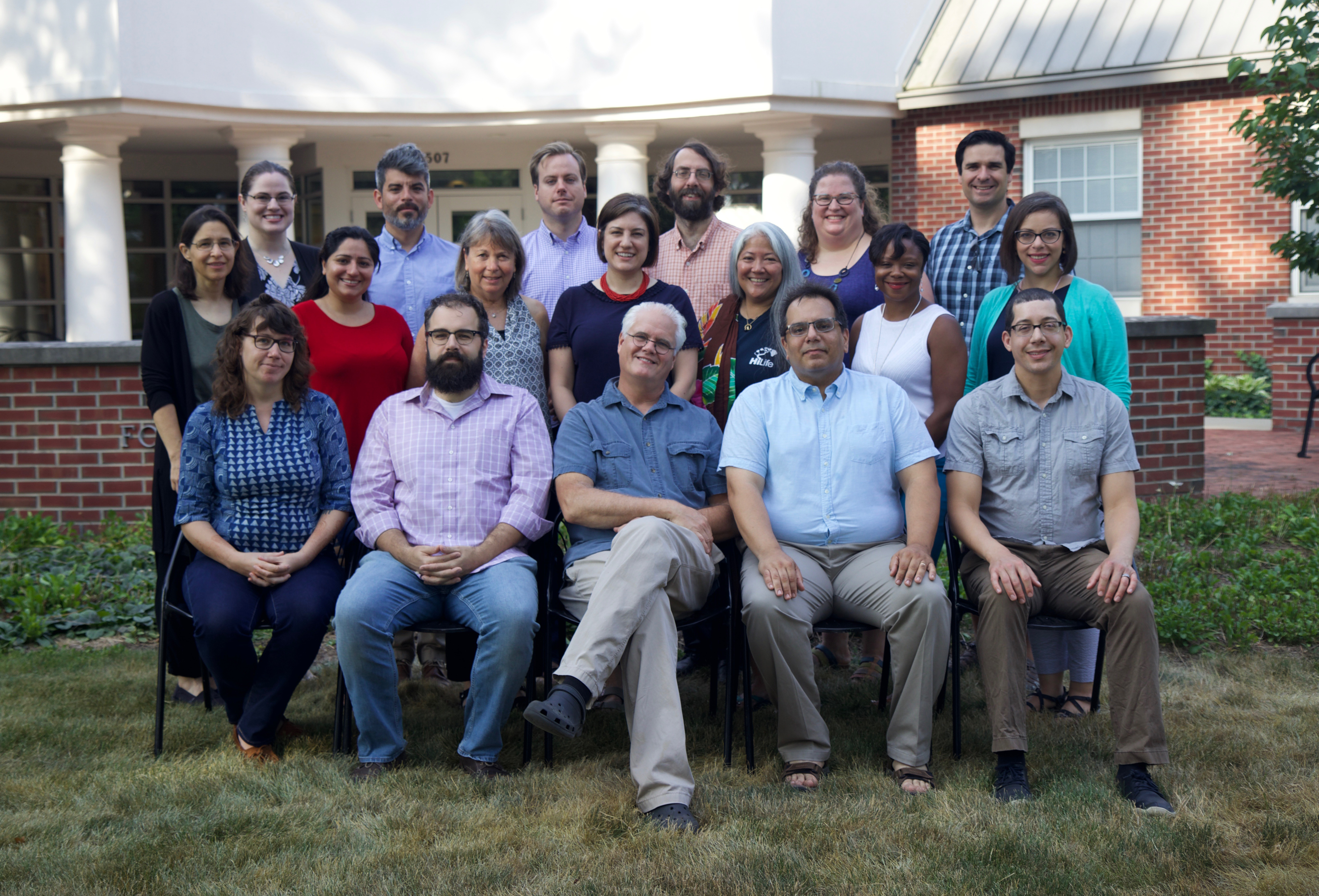 Front Row: Jaclyn Michael (University of Tennessee, Chattanooga), Matthew Hotham (Ball State University), *Tom Pearson (Wabash Center), *Ruben Rosario-Rodriguez (Saint Louis University), George Faithful (Dominican University of California. Middle Row: *Bernadette McNary-Zak (Rhodes College), Shehnaz Haqqani (Mercer University – Macon), Rebecca Berru Davis (Montana State University), Emily Cain (Loyola University Chicago), *Swasti Bhattacharyya (Buena Vista University), Michele Watkins (University of San Diego), Sara Ronis (St. Mary's University – Texas). Back Row: Kristy Slominski (University of Arizona), Tanner Capps (St. Andrews University), Stephen Waers (Point University), *Steven Ramey (University of Alabama), Jackie Wyse-Rhodes (Bluffton University), Thomas Hoklotubbe (Cornell College). *leadership/staff
Dates
First session:
July 8-13, 2019, Wabash College
Second session:
January 16-19, 2020, Corpus Christi, Texas
Third session:
June 15-20, 2020, Online
Fourth session:
January 14-17, 2021, Online
Leadership Team
Bernadette McNary-Zak, Director
Rhodes College
Swasti Bhattacharyya
Buena Vista University
Steven Ramey
University of Alabama
Rubén Rosario Rodriguez
St. Louis University
Description
This workshop will gather 14 early career faculty members from diverse scholarly specializations and institutional contexts (primarily teaching undergraduates), for a week in each of two successive summers and a winter weekend retreat. As a collaborative learning cohort of teacher-scholars, we will explore such topics as:
• Relationship between scholarship and teaching
• Professional and personal life in institutional context
• Implications of intersectionality in the classroom
• Course design and assessment
• Issues of technology in education
• Fellowship project design
The workshop balances plenary sessions with small group discussions, individual and collaborative work, access to the Wabash Center teaching resources, as well as structured and unstructured social time.
Workshop Goals
Create a collaborative learning cohort of teacher-scholars 
Develop the practice of critical reflection on teaching
Articulate the relevance of our courses inside and outside the academy
Explore strategies for thriving in institutional and personal contexts
Honorarium and Fellowship
Participants will receive an honorarium of $3,500 for full participation in the three workshop sessions, plus local expenses and travel. In addition, participants are eligible to apply for a $5,000 workshop fellowship for work on a teaching project during the following academic year (2020-21).

Emily Cain – "'First, Do No Harm:' Trauma Informed Pedagogy in the Nontraditional Classroom

"

Tanner Capps – "The Art of Dialogue: Teaching Inter-religious Understanding Through the Arts"
Rebecca Berru Davis – "Images that Transform: The Use of Art in Teaching Theology in an Online Environment"
George Faithful – "Empowering Students to Build Bridges Between Their Passion for Social Justice and the Study of Abrahamic Religions" 
Shehnaz Haqqani – "Exploring Student Biases in First-Year Classes"
Chris "Thomas" Hoklotubbe – "Threshold Concepts in Teaching the Bible in a Small Liberal Arts College"
Matthew Hotham – "Beyond the 'Muslim Bible': Overcoming Student Resistance to Qur'anic Recitation in an Introductory Religious Studies Class"
Jaclyn Michael – "Deconstructing the Foreign 'Other:' Teaching Asian Religions Through Asian-American Experience"
Sara Ronis – "Integrating Trauma-Informed Pedagogy into an Introductory Theology Course"
Kirsti Slominski – "Applied Religious Studies for Health Professionals"
Stephen Waers – "Self-Location and Sympathetic Listening"
Michele Watkins – "Toward a Race and Gender Conscious Trauma-Informed Pedagogy for Undergraduates in Theology and Religious Studies"
Jackie Wyse-Rhodes – "Re-centering Biblical Studies" 
For More Information, Please Contact:
Nancy Lynne Westfield, Director
Wabash Center
301 West Wabash Ave.
Crawfordsville, IN 47933
765-361-6047
westfiel@wabash.edu