2019 Mini-Workshop
"Teaching with Digital Media"
Applications due January 15, 2019
Description
This workshop invites those who are teaching full time in theological schools to join a community of peers for a week long engagement with teaching and digital media. By "digital media" we mean electronic content — whether text, images, video, audio, or networked connectivity — that can be transmitted over the internet, computer networks, and social media platforms. The workshop will explore a range of teaching contexts — residential and online — in which the impact of digital culture, the availability of digital tools, and changes in knowledge acquisition and production are advantageous for student learning.
There will be a balance of plenary sessions, small group discussions, structured and unstructured social time, and time for relaxation, exercise, meditation, discovery, laughter, and lots of good food and drink.
Dates  July 24-28, 2019 – Wabash College          
Leadership Team
Ralph Basui Watkins, Director, Columbia Theological Seminary
Elizabeth Drescher, Santa Clara University
Tim Lake, Wabash College and Wabash Center
Katherine Turpin, Iliff School of Theology
Paul Myhre, Associate Director, Wabash Center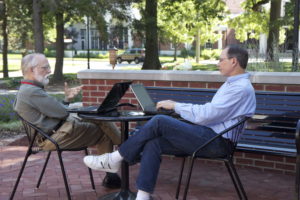 Workshop Goals
Explore the impact of digital culture in theological education
Learn about particular methods for effective use of digital media in classroom teaching and learning
Engage in hands-on activities that use media in teaching and learning
Develop strategies for effective use of digital media in participants' upcoming or current courses
Eligibility
At least 3 years of teaching experience
Current position in an accredited seminary or theological school in the United States, Puerto Rico, or Canada
Institutional support for teaching a course using digital media in the next academic year
Application Materials
1. Application contact information form
2. In a cover letter, describe your teaching context and state why you want to participate in the "Teaching with Digital Media" workshop. What excites you about the possibilities of using digital media in the classroom? What do you hope to gain or learn as a result of this experience? (250 words)
3. a) Describe one pedagogical issue that digital media presents for teaching and student learning that you hope to engage for deeper exploration in the workshop. (250 words)
b) Describe your experience (if any) creating and using digital media content. (250 words)
4. Academic CV (4-page limit)
5. A letter of institutional support for your full participation in this workshop from your department chair or academic dean. Please have this recommendation uploaded directly to your application according to the online application instructions.
Honoraria and Fellowship
Participants will receive an honorarium of $1,500 for full participation in the weeklong workshop, plus local expenses and travel.  
For more information, contact:
Paul Myhre, Associate Director
Wabash Center
301 West Wabash Ave.
Crawfordsville, IN 47933
800-655-7117
myhrep@wabash.edu