Teaching Against Islamophobia
Workshop Co-Sponsored with the American Academy of Religion
Anti-Muslim bigotry and racism have risen to epidemic proportions in the United States and Europe. The Wabash Center and the American Academy of Religion recognize the importance of equipping a broad array of religion scholars with the pedagogical knowledge, tools, and strategies to teach about, and against, anti-Muslim prejudice. For this reason, the two organizations are co-sponsoring a workshop entitled, "Teaching Against Islamophobia."
Dates:
August 6–10, 2018, Workshop at the Wabash Center in Crawfordsville, IN
November 16, 2018, Pre-Conference session on Friday afternoon, AAR Annual Meeting (Denver)
November 22, 2019, Pre-Conference session on Friday afternoon, AAR Annual Meeting (San Diego)
Workshop Leadership:
Juliane Hammer, University of North Carolina at Chapel Hill
Aysha Hidayatullah, University of San Francisco
Todd Green, Luther College
Marion Pierre, American Academy of Religion
Thomas Pearson, Wabash Center
Participants in the "Teaching Against Islamophobia" workshop will:
Explore the differences between teaching about Islam and teaching about Islamophobia
,
Deepen their knowledge of how Islamophobia functions as a form of racism and why this matters for how to create effective strategies for addressing Islamophobia in the classroom
,
Develop appropriate pedagogical strategies tailored to their specific teaching contexts (liberal arts college, state university, seminary, divinity school)
,
Consider ways to develop courses on Islamophobia, to frame/reframe courses on Islam by creating awareness of Islamophobia's impact on the study of Islam, and to enhance existing course modules with greater attention to Islamophobia,
Cultivate awareness of the pedagogical challenges and opportunities for combating Islamophobia as an engaged scholar inside and outside of the classroom,
Develop teaching projects that address these issues in their institutional context, and informally report back on progress and challenges during the pre-conference sessions at the AAR national conference in 2018 and 2019.
Funding
Participants will receive an honorarium of $1000 for full participation in the workshop and two AAR pre-conference sessions. For the workshop, all travel expenses, housing and meals will be covered. For the pre-conference meetings, one night's complimentary lodging is available for participants (if they have registered for the AAR Annual Meeting).
Eligibility
Eligibility is limited to faculty teaching about religion or theology at an accredited institution of higher education in North America (college, university, seminary, or divinity school).
We welcome applications from professors whose primary teaching and specialization is not Islamic studies.
Full-time or tenure status is not necessary.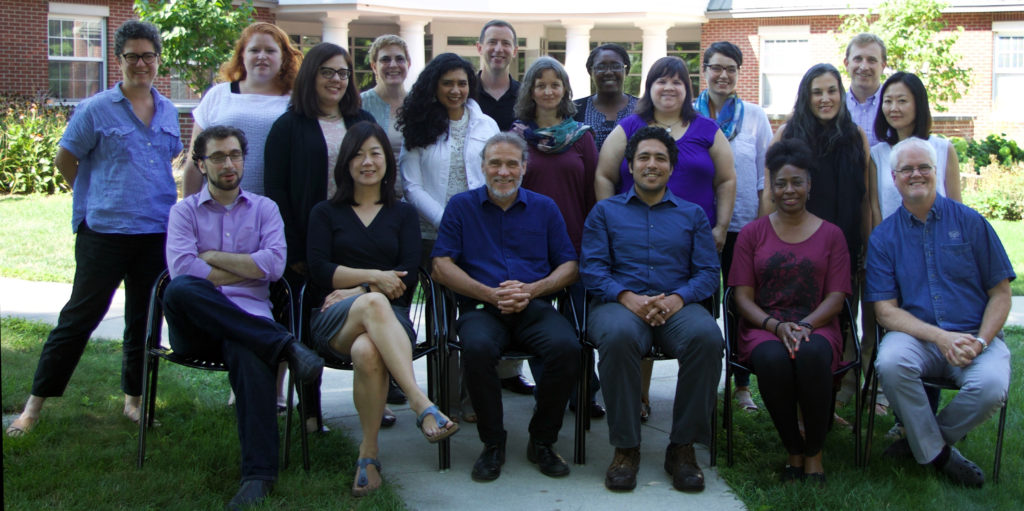 Participants
Front Row: Zaid Adhami (Williams College), Wonhee Anne Joh (Garrett-Evangelical Theological Seminary), Franz Volker Greifenhagen (Luther College -University of Regina), Yunus Telliel (University of California – Berkeley), *Marion Pierre  (American Academy of Religion), *Thomas Pearson (Wabash Center). 
Second Row: Heather White (University of Puget Sound), Sajida Jalalzai (Trinity University), *Aysha Hidayatullah (University of San Francisco), *Juliane Hammer (University of North Carolina at Chapel Hill),  Sara Moslener (Central Michigan University), Rebekka King (Middle Tennessee State University), Nami Kim (Spelman College).

Back Row: Megan Goodwin (Northeastern University), Rachel Mikva (Chicago Theological Seminary), *Todd Green (Luther College), Oluwatomisin Oredein (Memphis Theological Seminary), Kirsten Wesselhoeft (Vassar College), Adam Pryor (Bethany College).
*Indicates staff/leadership position 
Full Participation
It is important for participants to make the time and emotional commitment to engage in the life of the group. For example, we have found that late arrivals and early departures distract participants' focus thereby detracting from their immersion in the nascent community and compromising the goals of the workshop/colloquy for everyone.
APPLICATIONS CLOSED
May 11, 2018