Recommendations from Wabash Center Workshop Leaders
We asked several of the leaders of our teaching workshops and colloquies to recommend just one or two books, articles or websites that they would recommend as valuable resources for teachers.

 This short list provides a path into the vast field of the scholarship on teaching.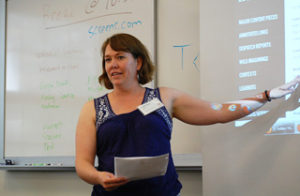 Video Conversation: "Stories from the Front"
Eric, Kate & Roger Discuss Scholarship & Teaching (3:11)
Latest Blog Posts
Thinking about Readiness in Trippet 301

-

Staying at Trippet Hall on the Wabash College campus always feels like a treat. It was my privilege to go back and stay there for a week earlier this summer […]

Teachers of religion and theology

-

Even if the course is not intended for this purpose, students signal with their questions and participation, that they are thinking of the course materials through the lens of their […]

Reflective Teaching
The Wabash Center's Online Publication Reflective Teaching publishes short (500 word) reviews of books and resources about teaching and learning.