Recommendations from Wabash Center Workshop Leaders
We asked several of the leaders of our teaching workshops and colloquies to recommend just one or two books, articles or websites that they would recommend as valuable resources for teachers.

 This short list provides a path into the vast field of the scholarship on teaching.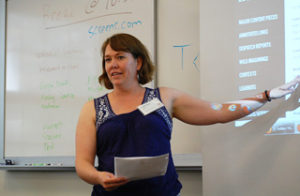 Video Conversation: "Stories from the Front"
Eric, Kate & Roger Discuss Scholarship & Teaching (3:11)
Latest Blog Posts
Using Ideology Critique to Teach Racial Justice

-

For the last few years, in teaching about racial justice, I have consciously decided to incorporate into my syllabi an opportunity for critical reflection based on Stephen Brookfield's theory of […]

Students Learn What THEY Do, Not What WE Do

-

As faculty become more adept at the online learning experience (of necessity for many; reluctantly for some) many lament the loss of the classroom experience. There is a real sense […]

Reflective Teaching
The Wabash Center's Online Publication Reflective Teaching publishes short (500 word) reviews of books and resources about teaching and learning.