Recommendations from Wabash Center Workshop Leaders
We asked several of the leaders of our teaching workshops and colloquies to recommend just one or two books, articles or websites that they would recommend as valuable resources for teachers.

 This short list provides a path into the vast field of the scholarship on teaching.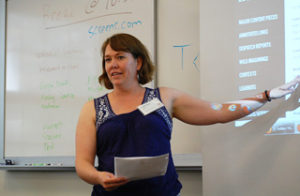 Video Conversation: "Stories from the Front"
Eric, Kate & Roger Discuss Scholarship & Teaching (3:11)
Latest Blog Posts
Teaching Social Justice

-

I met Rev. Jesse Jackson at an Interfaith Conference in Doha, Qatar. It was the first time I heard him speak in person, and during his plenary talk he covered […]

Home is Where the Classroom Is

-

I have a confession to make. When everything moved online in the spring I detested everyone in every Zoom class and work meeting in which I participated. Okay, I didn't […]

Reflective Teaching
The Wabash Center's Online Publication Reflective Teaching publishes short (500 word) reviews of books and resources about teaching and learning.