Recommendations from Wabash Center Workshop Leaders
We asked several of the leaders of our teaching workshops and colloquies to recommend just one or two books, articles or websites that they would recommend as valuable resources for teachers.

 This short list provides a path into the vast field of the scholarship on teaching.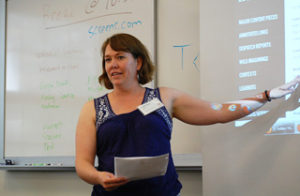 The Dean's Bookshelf
What's New in TTR (the Wabash Center's journal)
Browse TTR Teaching Tactics
New Resources in the Collection
Video Conversation: "Stories from the Front"
Eric, Kate & Roger Discuss Scholarship & Teaching (3:11)
Latest Blog Posts
Less Is More

-

When it comes to effective teaching, "less is more." While the brain is an amazing information and multi-sensory processor, research suggests it can only effectively learn one new thing (concept) […]

Thank you for Sharing: Gratitude in Online Learning

-

Recently I was working with my IT colleague, Dr. Justin Barber, on a project to use machine learning to gather data about student experience in our hybrid classes from our […]

Reflective Teaching
The Wabash Center's Online Publication Reflective Teaching publishes short (500 word) reviews of books and resources about teaching and learning.

Teaching Theology and Religion
Our international peer-reviewed journal is published by Wiley-Blackwell and available by subscription. Each issue includes some content available for free download without subscription.