Recommendations from Wabash Center Workshop Leaders
We asked several of the leaders of our teaching workshops and colloquies to recommend just one or two books, articles or websites that they would recommend as valuable resources for teachers.

 This short list provides a path into the vast field of the scholarship on teaching.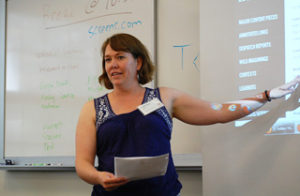 The Dean's Bookshelf
What's New in TTR (the Wabash Center's journal)
Browse TTR Teaching Tactics
New Resources in the Collection
Video Conversation: "Stories from the Front"
Eric, Kate & Roger Discuss Scholarship & Teaching (3:11)
Latest Blog Posts
Until It is Faced

-

Training students to identify and traverse the identity politics in the United States begins on the first day of my courses. On day one, I introduce myself, then launch into […]

Simone Weil on Study, Prayer, and Love

-

Theological education centers on attention. Attending to another person's thoughts, their arguments, their conceptions – studying, parsing, comparing, etc. This is not a novel claim. The Jewish philosopher Simone Weil, […]

Reflective Teaching
The Wabash Center's Online Publication Reflective Teaching publishes short (500 word) reviews of books and resources about teaching and learning.

Teaching Theology and Religion
Our international peer-reviewed journal is published by Wiley-Blackwell and available by subscription. Each issue includes some content available for free download without subscription.