Select an item by clicking its checkbox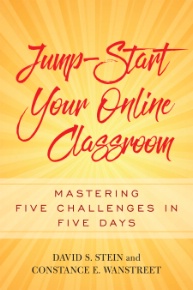 Jump-Start Your Online Classroom: Mastering Five Challenges in Five Days
Additional Info:
Click Here for Book Review
Every year, more online or technology-enhanced learning experiences are added to the landscape of education, and the number of students taking online courses on residential campuses continues to grow. In addition, new instructional tools are creating environments that are mobile, interactive, and collaborative. These trends present challenges to the online classroom, and this book will help instructors meet those challenges.
Jump-Start Your Online Classroom prepares a first-time online instructor to successfully manage the first few weeks of a course, including activities to help instructors plan, manage, and facilitate online instruction; and provides resources helpful during the beginning weeks of class. Each chapter is developed around the immediate challenges instructors face when teaching online. The authors address everyday problems and suggest solutions informed by their extensive research and experience. The five challenges, which are designed to be addressed in five days, are to:
• Make the transition to online teaching
• Build online spaces for learning
• Prepare students for online learning
• Manage and facilitating the online classroom
• Assess learner outcomes in an online classroom
The book is based on the authors' design and facilitation model that identifies five elements comprising an online learning environment: digital tools, participants, social practices, learning community, and outcomes. The book shows how each of those aspects influences instructional practices and interacts to create an environment for a meaningful online educational experience. (From the Publisher)
Table Of Content:
Preface
ch 1. The Online Environment
First Challenge: Making the Transition to Online Teaching
ch 2. Are You Ready to Teach Online?
ch 3. Addressing Concerns About Teaching Online
ch 4. Thinking and Acting Like an Online Instructor
Second Challenge: Building Online Spaces for Learning
ch 5. Building Spaces and Places for Learning
Third Challenge: Preparing Students for Online Learning
ch 6. Preparing Your Students for Online Learning
Fourth Challenge: Managing and Facilitating the Online Classroom
ch 7. Managing and Facilitating the Online Classroom
Fifth Challenge: Assessing Learner Outcomes
ch 8. Assessing Learning in the Online Classroom
ch 9. Reflecting on Your Experience
ch 10. Challenge for the Future: Building Knowledge
Appendices
References
About the Authors
Index