Select an item by clicking its checkbox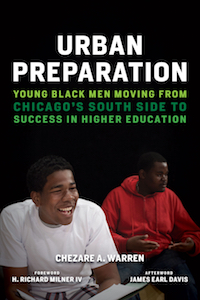 Urban Preparation - Young Black Men Moving from Chicago's South Side to Success in Higher Education
Additional Info:
Click Here for Book Review
Chezare A. Warren chronicles the transition of a cohort of young Black males from Urban Prep Charter Academy for Young Men to their early experiences in higher education. A rich and closely observed account of a mission-driven school and its students, Urban Preparation makes a significant contribution to our understanding of how young males of color can best be served in schools throughout the United States today.
A founding teacher at Urban Prep, Warren offers a detailed exploration of what this single-sex public high school on the South Side of Chicago has managed to accomplish amid profoundly challenging circumstances. He provides a comprehensive portrait of the school—its leaders, teachers, and professional staff; its students; and the community that the school aims to serve—and highlights how preparation for higher education is central to its mission.
Warren focuses on three main goals: to describe Urban Prep's plans and efforts to prepare young Black males for college; to understand how race, community, poverty, and the school contributed, in complex and interrelated ways, to the academic goals of these students; and to offer a wide-ranging set of conclusions about the school environments and conditions that might help young Black males throughout the country succeed in high school and college. (From the Publisher)
Table Of Content:
Foreword by H. Richard Milner
Urban Preparation: An Introduction
ch 1. Improving Urban Education for Young Black Men and Boys with Derrick R. Brooms
ch 2. Living and Learning on the South Side of Chicago
ch 3. UP Years 1 and 2: Schooling Environment
ch 4. UP Years 3 and 4: Preparation for College
ch 5. College Transition, Persistence, and Completion
ch 6. Reimagining the P–20 Education Pipeline for Young Black Men and Boys with Derrick R. Brooms
ch 7. Recommendations for Contemporary Urban Education Reform
Appendix Research Methods
Afterword by James Earl Davis
Notes
Acknowledgments
About the Author
Index