Salon 1 – Mid-Career African American Faculty
Leadership Team
Willie James Jennings, Yale Divinity School
Carolyn Medine, University of Georgia
Tim Lake, Wabash College / Wabash Center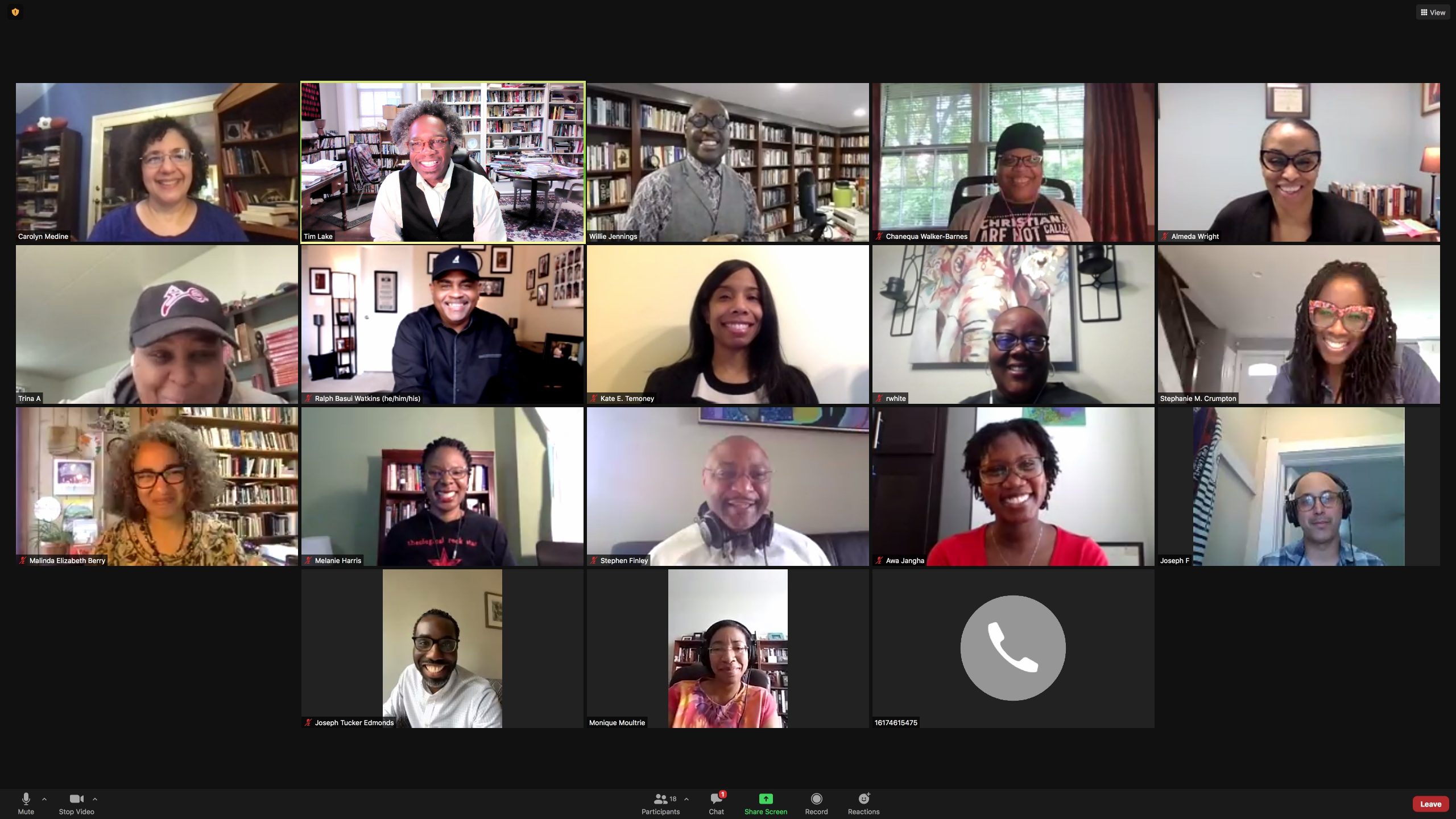 Participants
Trina A. Armstrong, Garrett-Evangelical Theological Seminary
Malinda Elizabeth Berry, Anabaptist Mennonite Biblical Seminary
Stephanie M. Crumpton, McCormick Theological Seminary
Stephen C. Finley, Louisiana State University
Joseph S. Flipper, Bellarmine University
Melanie L. Harris, Texas Christian University
Awa G. Jangha, Seminary of the Southwest
Monique N. Moultrie, Georgia State University
Kate E. Temoney, Montclair State University
Joseph L. Tucker Edmonds, Indiana University-Purdue University Indianapolis (IUPUI)
Chanequa Walker-Barnes, McAfee School of Theology – Mercer University
Ralph Basui Watkins, Columbia Theological Seminary
Richelle B. White, Kuyper College
Almeda M. Wright, Yale Divinity School
Description & Goals
This salon will focus on teaching about and about being part of at-risk black communities in this moment.
Goals:
1. Reflect imaginatively and critically upon the effects of the pandemic on teaching practices, institutional realities and the vocation of teaching
2.(Re)Design new syllabi, course sessions, and learning activities that directly attend to issues of student and societal trauma: Though we may do actual syllabus and assignment designs, we want to focus on the question of what redesign means at this moment. We would like to think about redesign in the sense of belonging and finding authentic voice. Our question is: How does what is authentically us come through given this new reality?
3. Nurture a sense of belonging for self and other colleagues in community
4. Hear their own authentic voice in teaching
Dates & Times
We would like to meet on Thursday mornings, breaking up the sessions into two times a month after one 3-hour opening session:
Session 1: Thursday, September 3 (10:30 am-1:30 pm, Eastern)
Session 2: Thursday September 17 and Thursday, October 1 (10:30 am-12:00 pm, Eastern)
Session 3: Thursday, October 15 and Thursday, October 29 (10:30 am-12:00 pm, Eastern)
Session 4: Thursday, November 12 and Thursday, December 3 (10:30 am-12:00 pm, Eastern)
Session 5: Thursday, January 7, 2021 and Thursday, January 28 (10:30 am-12:00 pm, Eastern)
Session 6: Thursday, February 11 and Thursday, February 25 (10:30 am-12:00 pm, Eastern)
Session 7: Thursday, March 25 (we are accounting for spring breaks in mid-March) and Thursday, April 15 (10:30 am-12:00 pm, Eastern)
Additional session, if necessary: Thursday, April 29 (10:30-12:00, Eastern)
Important Links
Our Philosophy of Workshops
Questions about the Salons?
Dr. Paul O. Myhre
Senior Associate Director
myhrep@wabash.edu.
Honorarium
Participants in the Salons will receive an honorarium of $3,000 for full participation in the online Salon meetings.