Recommended Reading for Deans of Theological Schools
It is not uncommon that those who step up to the office of dean at theological schools enter a realm that is daunting and unfamiliar: academic administration and leadership. More often than not, theological school deans previously enjoyed the relatively pastoral life of scholar and academic. Now, they have to GET THINGS DONE! That means engaging in professional development in a whole new field. Below is a selected list of "starter" books for the dean's new library. For new deans who wonder how to get a handle on the job, this is a good place to start.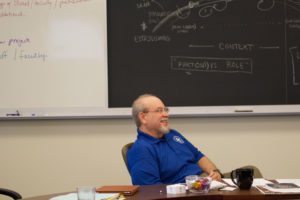 What's New in TTR (the Wabash Center's journal)
Browse TTR Teaching Tactics
New Resources in the Collection
Eric, Kate & Roger Discuss Online Education (5:45)
Making Memes as Public Theology in the Seminary Classroom

-

Teaching theology in the seminary is challenging. Many students, burning with zeal to do the "real work" of ordained ministry, pastoral care, often cannot immediately perceive theology's role in that […]

Getting the Right Answer Wrong

-

One of the most unfortunate practices in instruction is a teacher trying to get "right answers" from students. This is not to say that getting your students to get it […]

Reflective Teaching
The Wabash Center's Online Publication Reflective Teaching publishes short (500 word) reviews of books and resources about teaching and learning.

Teaching Theology and Religion

Our international peer-reviewed journal is published by Wiley-Blackwell and available by subscription. Each issue includes some content available for free download without subscription.